Brainterviews
INTERVIEW WITH
SEBASTIAN ELLIOTT OF BRAINDANCE
VAMPIRE FREAKS MAGAZINE - USA
WINTER, 2014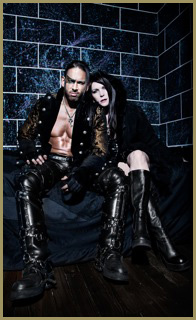 Thank you for taking the time for this interview and congrats on the long awaited and highly anticipated new album "Master Of Disguise". Can you tell us why it took over a decade to follow up the album "Redemption" being that "Shadows" and Fear Itself" as well as "Redemption" were closer in release?
thanks. to answer your question, we had a choice - put out a couple of albums that might be well received and played for a few years, or put out something that would stand far beyond the consideration of time. most of us have favorite albums that have endured as favorites throughout our lifetime, and most of the time we can't - or don't care to remember when they were released, let alone how many years passed between that release and the one before it. most people don't care that 'wish you were' here was released two and a half years after 'dark side of the moon,' but are simply appreciative that it was released at all. i hope that i was able to successfully dodge your question and simultaneously rave about the album.
Braindance has been a band for over 20 years, which in itself is impressive due to the lack of financial gain in a saturated market. What keepsBraindance going?
high fiber breakfast cereals and celebrity-endorsed energy drinks.
Being the style of music of Braindance is self proclaimed "Progressive Darkwave" do you think being such a non cookie cutter metal band has held the band back as it seems most of todays metal is either straight up generic power or prog metal? AND have you ever considered "selling out" to satisfy the masses?
when we first started producing music, we never really knew what it was that we were doing in the sense of categorization. when vora and i first met, i hadn't even listened to contemporary music for four or five years, and didn't exactly know what genre i would have liked to be associated with. i had been completely removed from current musical trends, listening to absolutely no music whatsoever. It was only after receiving press and response from both the goth/darkwave community and the progressive metal community in the early 1990's that we came to be familiar with terms such as gothic, darkwave, ambient, industrial, progressive, power, symphonic, etc. in fact, i'm still not 1000% clear (and have yet to receive a satisfactory explanation) on what those terms and their respective boundaries are. perhaps if i had been clear on those terms and how they are supposed to be communicated musically, we'd be doing something completely different than braindance, something completely identifiable (and non-threatening by industry standards), and probably making more money doing it. our way of doing things may have held us back, but it most certainly has given us a longer life span.
I agree Braindance has a completely unique style being melodic, heavy, catchy (and very tasty), theatrical, and progressive, who are the bands influences when writing music and lyrics and tell us what you listen to in your spare time?
not surprisingly, i'm a fan of all of the sub-genres that make up braindance - goth, industrial, electronic, ebm, synthpop, progressive metal, classic metal, progressive trance, vocal house, and modern classical music. even more so - anything with dense programming, multi-layered composition, distinct melody and/or of a darker nature. most of the time i'm digesting a tremendous amount of material weekly for work purposes - modern hip hop, reggaeton, pop, anddance - although if i do find any spare time, i usually listen to house music like erick morillo, vocal trance like armin van buuren, or hybrid stuff like nero or pendulum. having said that, i still don't think that i reference any other artist while composing melodies or writing lyrics, and i think vora would probably say the same.
What bands have you been compared to as most people need a reference point, if I said Symphony X meets Type-O-Negative at a horror convention would you agree?
probably not, although i like both projects. over time, since most listeners prefer reference points, we've been compared to many artists. if asked, i'd probably say something like: sisters of mercy meets rammstein meets depeche mode meets KMFDM meets delerium meets queensryche meets dio meets maiden meets ozzy meets yngwie meets dream theater meets vai meets killswitch meets type o meets kamelot meets within temptation meets kaskade meets morillo meets van buuren meets nero, deadmau5 and britney spears at a parent-teacher conference.
I think this band has what it takes to be a national act and a household name. Can you tell us the bands current situation as far as members and possible gigs and tours in support of "Master Of Disguise"?
that's very nice of you to say. for live performances supporting master of disguise, we've assembled the ultimate team to present braindance material both old and new. we're now a eight piece - the percussive wonderkind kenny grohowski, who has played with the secret chiefs and the pastorius brothers, rhythm guitarist tony geballe, who plays with the league of crafty guitarists, bassist eiki matsumoto, who was with us from 1992 until 1996, keyboardist and backing vocalist elektra, who is a pop star in her own right, and two other backing vocalists will be joining vora and myself for upcoming shows this winter.


Please take us through the concept of "Master Of Disguise" both musically and lyrically.
i'd rather not, as i believe in a good measure of ambiguity when writing lyrics. naturally, the themes have specific meanings for me, but i try not to assign definitive conceptual values to our material, because i believe listening should be somewhat interactive. insofar as everyone's experiences are different, so should their interpretations be. whereas i might see despair and desolation, someone else might see glazed donuts.
'master of disguise' is most definitely a 'concept' album which draws upon solid ancient egyptian and mayan themes within the setting of a parallel universe. as with previous braindance material, there are definitive topics contained within each track that i can closely identify with emotionally, however they are communicated within a (hopefully entertaining) science fiction or fantasy framework that runs parallel to the emotional underpinnings. for example - without giving away too much - the 16 page comic contained within the packaging of 'master of disguise' tells the story of a powerful pharaoh-like being who had everything that anyone could ever want. upon the discovery of an ancient relic - the braindance amulet - he ends up questioning his beliefs and eventually destroying everything around him. obviously, i am not that individual (at least in my present incarnation), and have never experienced what our aforementioned protagonist has, however i think all of us can relate to the concept of questioning one's beliefs, feelings of hopelessness, and of becoming lost within one's self.
using another example - this time from a packaging standpoint - i researched 60 alphabets from the beginning of recorded time and chose five characters per alphabet to replicate in the elaborate packaging of 'master of disguise'. these characters, presented in random (or not so random) order might simply be construed as hieroglyphic communication (as well as hopefully a moderately attractive visual effect), but the message behind this visual representation - and a main theme running through the entire album - is one of identity confusion amidst a plethora of history and information.
Let's have some fun! Favorite food, movies, hobbies, biggest turn offs in people, and if you could choose 1 band to tour the world with who would it be?
fun? what's that? alright..
- food - korean barbeque
- movies - i've got a list of my top 50 - everything ranging from star wars to scorcese films to modern sci-fi thrillers - but you probably don't have enough - space to list them all
- turn offs - ignorance mixed with arrogance
- band to tour the world with - iron maiden, or any band, for that matter, that would be generous enough to have us.
Has Braindance ever came close to calling it quits being the state of the music industry and economy?
almost. every. single. day.
Thank you for your time and we wish Braindance HUGE TASTY success going forward. I want to give you, the band, the final words to say to all the fans and supporters of Braindance. Please include band links and where the fans and fans to be can buy your merchandise.
thanks for having me. check out the new site at progressivedarkwave.com for new information, the new video, photos old and new, streams, all releases and merchandise, and feel free to touch base with us on facebook at facebook.com/progressivedarkwave. the future is upon us...and it's oh, so tasty.