Brainterviews
INTERVIEW WITH
SEBASTIAN ELLIOTT AND VORA VOR OF BRAINDANCE
UNDERTOW MAGAZINE, BELGIUM
FALL, 2001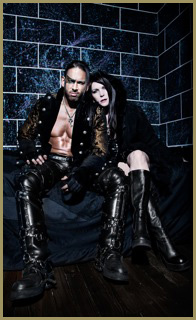 1) between "fear itself" and redemption are more then six years. why did it take so long to come with a new album?
as you may already know, progressive darkwave recordings functions as a label and management in name only. aside from a very talented group of artists, designers, street teams, and fans who help us survive as a self-produced entity, vora and i are completely responsible for production, promotion, publicity, bookings, management, and financial considerations. out of necessity, we've had to learn as we went, because i believed that we owed it to ourselves to become recording artists. i feel very fortunate to have had so many people pick up on what we're doing, and purchased our releases, but doing it yourself takes a strong toll, especially financially. after performing in and around the new york city area for three years to support the material on fear itself, we began pre-production on redemption, writing and tracking the album over the course of 1998, and into 1999. unfortunately, several tragedies would follow that prevented redemption from being released as scheduled, including parting ways with long-term drummer notorious, keyboardist/backing vocalist robynne naylor, bassist andy calcina, and more than a handful of flaky investors, production houses, and labels for the cd's release. i think we've been extremely fortunate to receive an overwhelmingly positive response to the pre-production material that was sent out over the last year in preparation for the release of redemption, but it has taken a toll in many ways. with a self-produced entity that survives primarily through the underground, there can be quite some time between release and reaction — perhaps the disasters that have delayed the release were, in part, a small blessing in disguise, as the buzz has increased in the underground.
2) from the line up on "fear itself" are only sebastian and vora are left. what happened to the other band members?

after a lengthy, yet pleasant rehearsal one tuesday evening, the rest of the band accidentally passed through the shrinkometron, and minimized significantly, not unlike a 'shrinky-dink', the popular children's after school activity in the late 70's. alas, it was to be yet another fateful reminder that our size should never be taken for granted.
3) how do you create your music?

vora usually comes to me with the framework of a song. at that point, the two of us make efforts to clarify the integral structure and develop the essential direction of the song. vora is generally responsible for arrangement, and my main concern as a songwriter in this project is with vocal melody, lyrics, and song structure. basically, i'm a simpleton — i write according to what sounds nifty. personally, i don't give a fuck how complex an arrangement is or how technically gifted a band is if there is an absence of memorable melody — a good song is a good song, whatever the format. after we're done, we allow the neighborhood children to urinate on the finished score. if the ink turns blue, we know we've got a winner on our hands.
4) can you tell me which you think are the main differences between "redemption" and your previous releases?

this time around, we eliminated all dairy products from our diet. i think you can hear the difference.
5) can you tell us some more about the lyrics on "redemption"?
sure.
6) the sound on "redemption" is massive. how were you able as a self supporting band to create such a big sound?
vora is quite the producer. to further fill out the sound, however, we began eating large portions of starchy carbohydrates, before bedtime, if necessary. once pre-production was complete, we were massive enough to put our girth to tape.
7) you recorded the album in different studios. why did you do this?
i thought it would be advantageous to sample the various delicacies that vending machines have to offer.
8) who are sebastian elliot and vora vor, where do they come from and what made them create a band like braindance?
i'm still trying to figure it out...
9) by which musicians are bands are you most influenced?
on the whole, and not surprisingly, i'm a fan of all of the sub-genres that make up braindance — goth, industrial, progressive metal, darkwave, classical, progressive trance, and gangsta rap — generally, anything with dense programming, multi-layered composition, distinct melody and/or of a darker nature. currently i'm listening to a lot of underground dance music, but my tastes have changed over the years, listening to classical, industrial, progressive metal, ambient trance, black metal, and cheese rock...
10) you call yourself the masters of progressive darkwave. if somebody came up to know who does not know braindance how would you describe your music to him/her?
i'd describe it as song-oriented material crossing five sub-genres — goth, industrial, progressive metal, house and darkwave, unless i liked the person, in which case, i'd describe it as angst-driven teen pop with buckets o' sex appeal, baby. being called the masters of progressive darkwave, however, is certainly far better than being called the masters of scallion cream cheese.
11) what are at the moment your five favorite albums?
circle of dust – brainchild
noise unit – drill
pink floyd – wish you were here
velvet acid christ – fun with knives
journey – greatest hits

12) braindance is a band that is operating in the underground. would you like to keep it like this or would you be willing to sign a major deal?
certainly, every musician aims to spread their music to as many people as possible — i would be lying if i told you that i didn't want large quantities of people to hear our music, and simultaneously feed myself better.
13) are you going to put a band together to promote your album live?
we've already acquired a talented rhythm section and a backing female vocalist. currently, we're screening potential keyboardists, jugglers and fire eaters to round out the ensemble.
14) when it is all over and done how would you like people to remember you?
as a kind, generous man who had a peculiar affinity for cinnamon raisin bagels...