Brainterviews
INTERVIEW WITH
SEBASTIAN ELLIOTT OF BRAINDANCE
TOTAL ORDER INDIE ZINE - USA
WINTER, 2015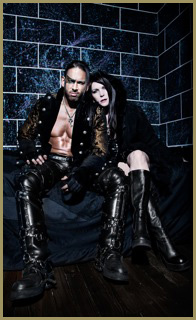 1. How did you all meet and get together as a band? Are you all from the same parts of NYC?
After graduating NYU, I made the conscious choice to prolong happiness and financial security for a lifestyle filled with the pursuit of personal passion and reckless post-adolescent activities. Putting off graduate school, I sought out the magical, mystical Vora Vor and immersed myself in a music career that I had left behind three years earlier. We met through a classified ad in a local paper called the East Coast Rocker in the early spring of 1992, which was mostly a New Jersey publication, since Vora lived there at the time. It was after a few sessions in Jersey that I found out that not only was she was graduating from NYU at the same time that I was, that half the time she would stay with friends who literally lived directly across the street from where I was living in Greenwich Village.
2. How did you guys come up with and decide on Braindance for the name of the band?
The name originates from the ancient Aramaic, meaning 'fish chips, shrimp crisps.' Legend has it that once repeated ten times quickly, the speaker gains immortality.
3. Did anyone in the band attend music school or university or have formal training?
I believe that Vora has degrees in performance and composition. I studied classical guitar and voice both here in New York at the American Institute of Guitar as a teen and in Boston at the New England Conservatory of Music before NYU.
4. Were any of you guys friends before joining Braindance?
Not in this lifetime.
5. Where would you like to see yourselves in 5 years time?
I'm hoping to put on at least another 10-15 pounds of lean muscle mass, and increase my core strength considerably. I'm working towards eliminating negative thought patters, and being so hard on myself.
6. Who writes the music/lyrics, or is it a group effort and do the words come first or the music?
Vora usually comes to me with the framework of a song. At that point, the two of us make efforts to clarify the integral structure and develop its essential direction. Vora is generally responsible for arrangement, and my main concern as a songwriter in this project is with vocal melody, lyrics, and song structure.
7. Who are some of your Major Musical Influences?
On the whole, and not surprisingly, I'm a fan of all of the sub-genres that make up braindance - goth, ebm, progressive metal, darkwave, classical, synthpop, trance - generally, anything with dense programming, multi-layered composition, distinct melody, and/or of a darker nature. Vora would probably list the Beatles, Yes, Skinny Puppy and King Crimson as strong influences alongside classical composers, whereas I grew up on stuff like Zeppelin, Sabbath, Maiden, Queensryche, Yngwie, and Ozzy before turning solely to classical music at 14 or so. When I returned to the modern music fold a few years later, my tastes grew to become more obscure and varied, but my basic influences remained the same.
8. How many times a week does the band get together to practice?
7,623.
9. What do you all do as far as a day time jobs go? (If you feel comfortable answering.)
Vora has done a lot of web design and promotion, along with some production and soundtrack work. I, myself, have done quite a few unusual things over the years (including running New York City nightclub ropes, fight announcing, bartending, training salespersons, and a four year stint with Chippendales -ed.), but currently run the day to day of the label, do voiceover work for television and radio, and am the head disc jockey for Scores new york.
10. One CD/Album that you could not live without.
Selena Gomez, A Year Without Rain.
11. Do any of you have a favorite piece of gear or toy that you could not live without?
Absolutely. The Phillips Norelco Bodygroom 7100. The dual-sided design lets you trim and shave with just one product. A built-in trimming comb with 5 length settings comfortably glides over the skin while trimming even the thickest hair, and the 3-D pivoting shaving head closely follows your body's contours for the ultimate in comfort.
12. What is or was your favorite venue to play?
Hmm. For me, that's a toss up between the Batcave in midtown Manhattan or L'amour in Brooklyn. Batcave, because we played to great crowds regularly over the course of many years, and had a great relationship with the promoter, the sound man, and the staff. L'amour, because i always really, really loved that stage and the history of the venue.
13. What was your most memorable moment being in Braindance?
After 23 years, there's not much left of the memory, but highlights occasionally pop in from time to time. Performing at Progscape in 1996, headlining the first Vampyre Ball, numerous studio sessions, rehearsals, personnel & performances, numerous unpleasantries that we can now laugh about.
14. What are some of your pet peeves?
Unfortunately, pretty much anything and everything, except for the term 'pet peeve'. That shit right there is pretty darn cool.
15. What are some of the biggest obstacles in being in a band today?
Where do I start? There's the difficulty in stemming the surge in record sales, keeping groupies at bay, where to store all of the money, and being able to shop at Walgreens without having to sign autograph after fucking autograph. Ugh.
16. What advice would you give to beginners who are considering starting/joining a band, or a career in the music industry?
Yes and no.
17. What's the most bizarre thing to happen to you or a bandmate while on-stage, backstage or traveling to/from a gig?
Nothing that I am at liberty to presently discuss, other than this marvelous little pancake house we stopped at coming back from a strange Woodstock show. Fantastic hash browns.
18. What makes your current CD different from the last one/last few?
'Master of Disguise' is more of a 'concept' album, drawing upon ancient Egyptian and Mayan themes within the setting of a parallel universe throughout the entire release.There are 15 tracks on the release - five singles, a trilogy, two 'cinema soundscapes,' and a 16 page graphic novelette that tells the story of a powerful pharaoh-like being who discovers an ancient relic that destroys everything around him. As with previous Braindance material, there are definitive topics that are communicated within a (hopefully entertaining) science fiction/fantasy framework that runs parallel to the emotional underpinnings.
19. What are some of your passions outside of music?
A passion is something you enjoy doing, correct? Not sure that i actually enjoy much, although i am occasionally driven to engage in various activities that are designed (in theory) to bring me satisfaction as opposed to happiness. Stuff like keeping active, nutrition, psychology, design, sleeping, and going to the bathroom.
20. What genre of music do you consider your material to be in, aside from (the obvious) Progressive Darkwave? Also, who else do you feel belongs in this genre with Braindance?
Not sure how to liken it to most genres, but since most listeners prefer reference points, I'd probably say something like: Sisters of Mercy meets Rammstein meets Depeche mode meets KMFDM meets Delerium meets Queensryche meets Dio meets maiden meets Ozzy meets Yngwie meets Dream Theater meets Vai meets Killswitch meets Type O meets Kamelot meets Within Temptation meets Kaskade meets Morillo meets Van Buuren meets Nero, Deadmau5 and Britney Spears. No one else belongs. We barely belong.
21. Do you play cover songs when performing live, If so, how do you all decide what to play?
We haven't performed any cover songs, and generally speaking, i'm not a fan, although there are a few older songs ranging from disco to freestyle to hair metal that i wouldn't mind re-arranging & recording, braindance style.
22. There was quite a gap between "Redemption" and "Master of Disguise" (Like 6-7 Years) What kept you away from the scene for so long. Obviously there was some time in there used to compose and record the new album, what else was going on?
To answer your question, we had a choice - put out a couple of albums that might be well received and played for a few years, or put out something that would stand far beyond the consideration of time (which was more like 12 years). Most of us have favorite albums that have endured as favorites throughout our lifetime, and most of the time we can't - or don't care to remember when they were released, let alone how many years passed between that release and the one before it. I hope that I was able to successfully dodge your question and simultaneously rave about the album in a backhanded fashion.
23. When using the sequencers and programing clips for your new music, what inspiration do you rely on to make it all come together, or even get started? Do you just remember certain lines or clips off the tops of your heads, do you watch certain films or shows to look for a certain type of clip, and how much time goes into putting a track like "Dysphoria" together, from original concept to mastering?
I have several hundred movies that i own, and/or have memorized. i knew exactly what kind of samples i was looking for, and what kind of movies i wanted them from. sure, it was time-consuming (many months), but in my mind - just like writing melodies or lyrics - i knew there would be a perfect fit for each intended space, and it was simply up to me to find it.
24. Anything that you would like to say to any potential fans out there reading this interview?
Yes.
Should each band member have a personal/artists Facebook Page/Website or Social Media Page that you would like to share with the listeners so that they can better interact with you, please feel free to list it here and I will compile them all together for easier access to drive some fans your way.
The official site - progressivedarkwave.com
The official facebook page - facebook.com/progressivedarkwave
The official twitter page - twitter.com/xbraindancex
My very exciting instagram page - instagram.com/xnightknight

Again, Thank you all so much for helping out and being a part of Total Order Magazine, as well as Neue Regel Radio as we look forward to getting and reading all of your replies and getting it out to our fans as well as help gain a listener base from within our core listener group as we are picked up in over 80+ Countries to date.
Thanks to you, Total Order Magazine and Neue Regel Radio for your support...:)