Brainterviews
INTERVIEW WITH
SEBASTIAN ELLIOTT AND VORA VOR OF BRAINDANCE
SOLEMN WEBZINE, MALTA
FALL, 2001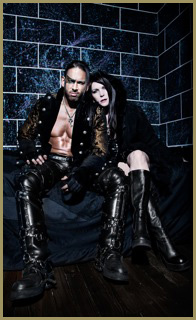 1) Can you give the readers a brief intro about the band's history?
In the early 90's, i was finishing study in psychology at new york university, and felt a tremendous hesitancy towards continuing my education directly after college, with specific regards to engaging in research at the ph.d. level. having abandoned music altogether after a miserable year at the new england conservatory three years before, i decided to give music another shot and made the conscious choice to prolong happiness and financial security for a lifestyle filled with the pursuit of personal passion and reckless post-adolescent activities. putting off graduate school, i sought out the magical, mystical vora vor and immersed myself in a music career that i had left behind three years earlier. Ultimately, It was the image of tiny gnomes embedded in sweet basil mashed potatoes that inspired me to seek out progressive darkwave.

2) Now you are a duo and also have modernised your style. Was this 'change' in line-up due to a change in style or simply there were not any more good terms with the rest?
Other than the synchronized water ballet activity that vora and I have immersed ourselves in, braindance has always been at least a five-piece for live purposes. The shadows and fear itself lineup featured drummer rob notorious, bassist eiki matsumoto and keyboardist robynne naylor. we spent the next several years showcasing in and around the new york city area, and writing and recording material for the next two full length releases - fear itself and redemption, eventually replacing eiki matsumoto with andrew bunk. redemption was written and subsequently tracked over the course of 1998, and into 1999, with andy and robynne. unfortunately, since then, we've parted ways with all of the aforementioned musicians for several reasons, none of which were style related. currently, we're writing new material, and preparing for live perfomance with new bassist david z, drummer jofu, and keyboardist constantin v.
3) Redemption is more 'electro' orientated then the 'rockish' Fear Itself. There is also a 5 year gap (if I am correct) between these albums, how do you see the past, present and future of the band's style?
We try to have as little style as possible.
4) A strange thing about 'Redemption' is that all tracks begin with the letters 'Re', why?
It sounds cool.
5) Your albums are also added with the comic cartoon concept. I presume you are fans of such comics. Who are your favourite characters. Do you also read the English comic 2000AD.
I've been a big fan of comics my entire life, growing up on batman and spider-man. Over the last few years, I've gotten more into comics such as witchblade, the darkness, battle chasers, pitt, Jim balent's tarot, and certain adult animation.

6) Did you see the movies Spawn and Judge Dredd? What is your opinion? Do you think comic characters should be left were they are, as after all none seemed to make such a big hit on the big screen.
I'm not sure whether my opinion matters or not, but I still have faith in Hollywood as mankind's savior.
7) What bands do you admire most? Any particular influence?
on the whole, and not surprisingly, i'm a fan of all of the sub-genres that make up braindance - goth, industrial, progressive metal, darkwave, classical, and progressive trance — generally, anything with dense programming, multi-layered composition, distinct melody and/or of a darker nature. currently i'm listening to a lot of house, progressive trance, and darkwave hybids...i'm also listening to projects like cradle of filth, velvet acid christ, vnv nation, dark tranquility, anything by leeb/fulber (front line assembly/noise unit/synaesthesia), samael, theatre of tragedy, lacuna coil, circle of dust, paradise lost, zoar, lycia, and tiamat...I'm most influenced by my dog, who vomits upon me when disturbed by my behaviors.
8) Your music, apart that it is more than good, is also more 'ear friendly' to the general public than extreme metal music. Any major or serious labels interested in your work? And what is your opinion about you scene in general?
when we first started braindance, we never really knew what it was that we were doing in the sense of categorization — we simply produced tasty nuggets intended to please ourselves and the temperamental amphibians we surrounded ourselves with. when vora and i first met, i hadn't even listened to contemporary music for four or five years, and didn't exactly know what genre i would have liked to have been associated with. it was only after receiving press and response from both the goth/industrial/darkwave community and the progressive community, that we came to be familiar with terms such as gothic, darkwave, ambient, industrial, progressive, death, symphonic, epic, black, doom metal, etc. in fact, i'm still not clear (and have yet to receive a satisfactory explanation) on what those terms and their respective boundaries are. perhaps if i had been clear on those terms and how they are supposed to be communicated musically, we'd be doing something completely different than braindance, something completely identifiable (and non-threatening by industry standards), and probably making more money doing it.
from the start, we felt we owed to ourselves to become recording artists - i don't believe in granting people the right to decide when my career starts. fortunately, quite a few misguided people out there in candyland felt like spending their hard earned ducats on braindance merchandise. As mentioned, we've had limited dealings with limited companies with limited integrity and limited dealings with limited companies with limited funds, but nothing substantial. i would be lying if i told you that i didn't want large quantities of people to hear our music. But no matter how many fans, dj's and journalists champion the project, labels have generally ignored us. what we do frightens labels and frightens persons who are responsible for financial return within those labels. independent labels as well as majors have risk to contend with. in order for a label to dump a heap of cash on you, they've got to be sure that your music has succeeded in other realms — their competitor must have had one of you, and have done rather well with them. independent labels, for the most part, cater to one form of music, or one specific genre or sub-genre and generally operate no differently — as a business. because what we do crosses a few different sub-genres, there is no 'niche' for us, even in the independent ('underground') world, which prides itself on promoting new, exciting, underground music.
9) Let your last words conclude...thanks
trust no one wearing green otter sandals.