Brainterviews
INTERVIEW WITH
SEBASTIAN ELLIOTT OF BRAINDANCE
RENEGADE MAGAZINE, U.S.A.
SUMMER, 2000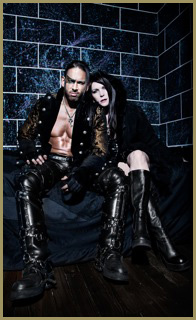 braindance was at the debuts a studio project, could you explain us your evolution?
the bio is correct in stating that we were 'originally conceived as a studio project" - our sessions mainly consisted of writing material, developing lyrical concepts, and committing them to tape. from the start, we felt we owed to ourselves to become recording artists - i don't believe in granting people the right to decide when my career starts. fortunately, quite a few misguided people out there in candyland felt like spending their hard earned ducats on braindance merchandise and provided us with unlimited vats of soft shell tortillas...
2. could you present us the line-up of braindance?
braindance is comprised of vora vor, guitars, ferret enchilada shavings, programming, and caulking production - i and i alone control all of the spackling, scraping, and sanding within the progressive darkwave territories. we have between three and five revolving members, human and otherwise, responsible for percussion, basses, keyboards, voices, and a myriad of other aural excitements within a live setting. then there's claude, who travels with us simply to provide us with an array of spiced chocolate sauces...
3. are you satisfied by the work of your label double edge production?
braindance is technically an unsigned act, and thus, progressive darkwave recordings (formerly double edge music) functions as a record label and management in name only. we've had limited dealings with limited companies with limited integrity and limited dealings with limited companies with limited funds, but nothing substantial. except for the 25 or so individuals who lend their talents because they believe in the project, braindance is self-produced - we've been blessed with the learning of this wonderful business as we go....

4. could you present us your projects, is the album "redemption" is out now?
i feel very fortunate to have had so many people pick up on what we're doing, and purchased our releases, but doing it yourself takes a strong toll, especially financially. we wrote and subsequently tracked the album over the course of 1998, and into 1999. unfortunately, several tragedies would follow that prevented redemption from being released as scheduled, including parting ways with long-term drummer notorious, keyboardist/backing vocalist robynne naylor, bassist andy calcina, and more than a handful of flaky investors, production houses, and labels for the cd's release. i think we've been extremely fortunate to receive an overwhelmingly positive response to the pre-production material that was sent out over the last year in preparation for the release of redemption. with a self-produced entity that survives primarily through the underground, there can be quite some time between release and reaction. perhaps the disasters that have delayed the release were, in part, a small blessing in disguise, as the buzz has gradually increased in the underground.
5. what is for you the best band in the metal wave? and in your domain, the dark/new wave?
on the whole, and not surprisingly, i'm a fan of all of the sub-genres that make up braindance - goth, industrial, progressive metal, darkwave, classical, progressive trance, and sauerkraut - generally, anything with dense programming, multi-layered composition, distinct melody and/or of a darker nature. currently i'm listening to a lot of house, progressive trance, and techno...i'm also listening to cradle of filth, velvet acid christ, dark tranquility, anything by leeb/fulber (front line assembly/noise unit/synaesthesia), and darkwave hybrids such as samael, theatre of tragedy, paradise lost, within temptation, zoar, lycia, and tiamat...
6. what are your main influences?
when we first started braindance, we never really knew what it was that we were doing in the sense of categorization - we simply produced tasty nuggets intended to please ourselves and the temperamental amphibians we surround ourselves with. when vora and i first met, i hadn't even listened to contemporary music for four or five years, and didn't exactly know what genre i would have liked to have been associated with. it was only after receiving press and response from both the goth/industrial/darkwave community and the progressive community, that we came to be familiar with terms such as gothic, darkwave, ambient, industrial, progressive, death, black, doom metal, etc. in fact, i'm still not clear (and have yet to receive a satisfactory explanation) on what those terms and their respective boundaries are. perhaps if i had been clear on those terms and how they are supposed to be communicated musically, we'd be doing something completely different than braindance, something completely identifiable (and non-threatening by industry standards), and probably making more money doing it.
7. what means for you the word "underground" and why?
I have a modest definition, but to ask me why that definition existed for me would lead me to assess why we're in the underground. certainly, every musician aims to spread their music to as many people as possible - i would be lying if i told you that i didn't want large quantities of people to hear our music. unfortunately, what we do frightens labels and frightens persons who are responsible for financial return within those labels. independent labels as well as majors have risk to contend with. in order for a label to dump a heap of cash on you, they've got to be sure that your music has succeeded in other realms - their competitor must have had one of you, and have done rather well with them. if you're the goober in a&r who signed a maverick artist who didn't do well at the finish line, then you're the goober who's looking for a job at the end of the quarter. independent labels, for the most part, cater to one form of music, or one specific genre or sub-genre and generally operate no differently - as a business. because what we do crosses a few different sub-genres, there is no 'niche' for us, even in the independent ('underground') world, which prides itself on promoting new, exciting, underground music. we're too heavy for goth labels, we're too goth for progressive labels, we're not heavy enough for doom metal labels, we're too industrial for metal labels. when we began braindance, i had no concept of what these terms meant, and in many ways, i still don't. it wasn't until our music was reviewed regularly that these terms came into play. To me, the underground is quite possibly a collective of art/artists that are still undiscovered by the masses, that in concept, aim to preserve or better that artform, themselves within the art form, and/or those that operate within that art form, independent of industry's constraints and influence.
8. today, what is your main wishes about your music?
i feel very fortunate to have had so many people pick up on what we're doing, and purchased our releases, but it's been over four years since fear itself, and doing it yourself takes a strong toll, especially financially. to answer your question, at this stage, simply having the album out would be a redemption of sorts...
9. in severals years, is braindance will follow an another way, in others words, have you an idea about your future music?
we're planning on melting into a pool of goo somewhere in the near future...
10. what do you think if i tell you that braindance is a mix between the kovenant, samaël, type o & depeche mode?
that's flattering, as i'm a fan of all of those projects. i've heard a mix of everything from rammstein to paradise lost to tiamat to samael to depeche mode to fear factory to queensryche to type o negative to kmfdm to britney spears...
11. if you had to choose another band to play with, what will be this one?
probably cradle of filth...
12. have you a special ideology (satanism, christianism, magic...) in the band?
i used to be a practicing pagan, however, now i'm merely a fan of eating regularly...
13. if you had to rip off a band, what will be this one?
probably n'sync...they're loaded...
14. a last word?
through the eyes of misery, everything looks grim ...