Brainterviews
INTERVIEW WITH
SEBASTIAN ELLIOTT OF BRAINDANCE
PROGRESSIVE WORLD WEBZINE — ITALY
WINTER, 2003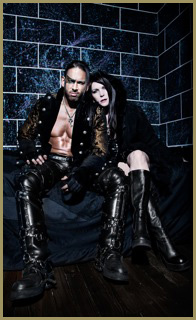 1) igor: first of all i would like to know when the band started, 'cause it was some time ago, right?
sebastian: the band officially started as braindance in the spring of 1992, between myself, vora, and our first drummer, rob notorious. at the time, i was finishing study at new york university in psychology, and i was far more interested in pursuing a career in destitution than as a mental health professional.
2) igor: the aspect that really caught my attention is that vora is the main composer of the band, also playing an awful lot of instruments (apart from the fact that she is also nice-looking). so how began her passion for music and what studies did she manage to do (if any)?

sebastian: as vora is currently indisposed, i can only say that her genius surely knows no bounds.
3) igor: on the other hand there is sebastian, who possesses a magnetic voice, similar to the one of peter steele. do you think this is a fair comparison? you think you'll change your vocal approach somewhat in the future or not?

sebastian: the magnetism becomes quite irritating, especially around kitchen magnets. although i both like and respect peter's voice, i think it is the fact that we both sing cleanly and in a lower register that elicits the comparisons. i'm sure my vocal approach will change, based upon my rapid aging process.
4) igor: your first album, "fear itself", was released in 1995. why it took so much time to release the follow-up (recorded only 6 years later)?

sebastian: as you may already know, progressive darkwave recordings functions as a label and management in name only. aside from a very talented group of artists, designers, street teams, and fans who help us survive as a self-produced entity, vora and i are completely responsible for production, promotion, publicity, bookings, management, and financial considerations. out of necessity, we've had to learn as we went, because i believed that we owed it to ourselves to become recording artists. i feel very fortunate to have had so many people pick up on what we're doing, and purchased our releases, but doing it yourself takes a strong toll, especially financially. after performing in and around the new york city area for three years to support the material on fear itself, we began pre-production on redemption, writing and tracking the album over the course of 1998, and into 1999. unfortunately, several tragedies would follow that prevented redemption from being released as scheduled, including parting ways with long-term drummer notorious, keyboardist/backing vocalist robynne naylor, bassist andy calcina, and more than a handful of flaky investors, production houses, and labels for the cd's release. i think we've been extremely fortunate to receive an overwhelmingly positive response to the pre-production material that was sent out over the last year in preparation for the release of redemption, but it has taken a toll in many ways. with a self-produced entity that survives primarily through the underground, there can be quite some time between release and reaction - perhaps the disasters that have delayed the release were, in part, a small blessing in disguise, as the buzz has increased in the underground.
5) igor: are you able to perform live shows regularly, or it is a difficult thing to do, considering that you are officially only a two-some?

sebastian: we have enlisted three unusually gifted individuals to round out the lineup — david z, from october thorns, on bass, phil suarez, from soundscape, on percussion, and stacy brisco, from kronos, on keyboards/backing vocals. although the promotional material represents braindance as a duet, we should be performing live as early as july as a quintet. be warned...
6) igor: the covers of your albums are really captivating. who did the works and do you think you'll follow the same path in the future?

sebastian: the very talented kinchi marc latrique was able to captivate my concepts well beyond my expectations for the last two releases, and i'm quite thrilled with the results, as i'm a huge fan of contemporary comic art. i haven't yet conceived the artistic direction for the next release, which is, at the moment, in the works.
7) igor: i don't think it's pure coincidence that all the songs of "redemption" start with the same letters and are one-word titles. why this strange choice?

sebastian: all of the other letters were taken.
8) igor: another aspect that surprised me is the sound of the cd...it is of such high quality that it is hard to believe it's a self-produced record. how you were able to obtain such an incredible sound?

sebastian: years of bitterness and prolonged satisfaction have lent itself to vora's production skills immensely. from the start, we felt we owed to ourselves to become recording artists - i don't believe in granting people the right to decide when my career starts. fortunately, quite a few misguided people out there in candyland felt like spending their hard earned ducats on braindance merchandise and provided us with unlimited vats of soft shell tortillas.
9) igor: your albums are difficult to obtain in some countries. do you think you'll be able to solve this problem in the future? maybe with the support of a medium/big label?

sebastian: we're currently in negotiations with an international company for the worldwide distribution of redemption, so that you might be able to purchase braindance releases along with your mouthwash.
10) igor: you call your music 'progressive darkwave'...so you like to be seen as a prog outlet?

sebastian: when we first started braindance, we never really knew what it was that we were doing in the sense of categorization — we simply produced tasty nuggets intended to please ourselves and the temperamental amphibians we surround ourselves with. when vora and i first met, i hadn't even listened to contemporary music for four or five years, and didn't exactly know what genre i would have liked to have been associated with. it was only after receiving press and response from both the goth/industrial/darkwave community and the progressive community, that we came to be familiar with terms such as gothic, darkwave, ambient, industrial, progressive, death, black, doom metal, etc. in fact, i'm still not clear (and have yet to receive a satisfactory explanation) on what those terms and their respective boundaries are. perhaps if i had been clear on those terms and how they are supposed to be communicated musically, we'd be doing something completely different than braindance, something completely identifiable (and non-threatening by industry standards), and probably making more money doing it. i am proud to be associated with the progressive community, as it traditionally has represented a voice that pushes the envelope musically.
11) igor: time's up. there is something else you would like to add before goodbye?

sebastian: never underestimate the value of a spicy gelatinous dessert.
12) igor: ok, thank you for the great talk. a big hello from italy...and i hope to see your band here as soon as possible.

sebastian: sure, sure, my friend....