Brainterviews
INTERVIEW WITH
SEBASTIAN ELLIOTT OF BRAINDANCE
PARAGON MAGAZINE — U.S.A.
SPRING, 2003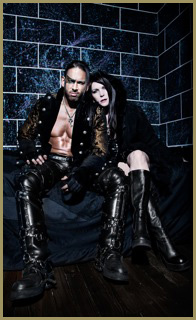 1) As far as I know, Braindance is made up of Sebastian and Vora, and you are an independent group, who does everything on your own. So first off, I have to say congratulations with the amazing work, it must be difficult sometimes to have to do everything on your own. Tell me about how Braindance started, and what inspired the formation of the group.

Thanks. For me, inspiration for the group began when I put off graduate school in order to pursue a career in hostility, bitterness & resentment. I found Vora through a classified ad that seemed to jump off the page much like a roach faced with the threat of insecticide. Ultimately, It was the image of tiny gnomes embedded in sweet basil mashed potatoes that persuaded me to seek out progressive darkwave.
2) Also, you both do all the composing, arranging, recording, and production on your records, right? Who do you get when you have to play live?
Actually, the recording of Redemption features Andy Calcina on bass, Robyn Naylor and Stygmie von Skunk-a-loohvff on percussion. The current line-up includes keyboardist & backing vocalist Beka, a graduate from the prestigious Julliard School, the multi-faceted percussionist Jonah David, and bassist David Z, from the Trans-Siberian Orchestra. Then, of course, there are the legions of genetically enhanced rodents...
3) Who plays what instruments when you compose and record your albums? Who writes the lyrics? Are the songs usually written, both musically and lyrically, from personal experience and emotions, or are they fictional?
Vora oversees the programming and arrangements, and my main concern is with vocal melody, lyrics, and song structure. I believe in a good measure of ambiguity when writing lyrics. Naturally, the themes have specific meanings for me, but I try not to assign definitive conceptual values to phrases, because I believe listening should be somewhat interactive.
4) How long has the band been around, and what kind of success have you seen in that amount of time?
Ten years of success beyond our wildest dreams.
5) Tell me about Progressive Darkwave Recordings. Are you ever going to consider getting signed to a major record label? Why/why not?
From the start, we felt we owed to ourselves to become recording artists – I don't believe in granting people the right to decide when my career starts. Fortunately, quite a few misguided people out there in candyland felt like spending their hard earned ducats on braindance merchandise. As mentioned, we've had limited dealings with limited companies with limited integrity and limited dealings with limited companies with limited funds, but nothing substantial. I would be lying if I told you that I didn't want large quantities of people to hear our music. But no matter how many fans, dj's and journalists champion the project, labels have generally ignored us. What we do frightens labels and frightens persons who are responsible for financial return within those labels. Independent labels as well as majors have risk to contend with. In order for a label to dump a heap of cash on you, they've got to be sure that your music has succeeded in other realms – their competitor must have had one of you, and have done rather well with them. Independent labels, for the most part, cater to one form of music, or one specific genre or sub-genre and generally operate no differently – as a business. Because what we do crosses a few different sub-genres, there is no 'niche' for us, even in the independent ('underground') world, which prides itself on promoting new, exciting, underground music. Having said that, we're still looking for the deal that will catapult us into the home of every child in America and beyond.
6) There is so much diversity in your music; it is absolutely inspirational when I hear it all come together flawlessly. What are your musical influences? Are there any bands or genres you look up to and try to be like?
Very nice of you to say, although you should taste Vora's lentil soup – that's flawless. I'm a fan of all of the sub-genres that make up Braindance - dark hybrid metal, goth, industrial, progressive metal, darkwave, classical, progressive trance, and dark house - anything with dense programming, multi-layered composition, distinct melody and/or of a darker nature. Insofar as influences are concerned, we've been trying to emulate Justin Timberlake to absolutely no avail...
7) I have a series of questions about the album Redemption. Firstly, why is it that all the songs on the album begin with the letter "R."? Is that symbolic of something?
Yes.
8) Also, there are so many sound clips, it seems from movies, on Redemption. Where do you get those clips from, and why do you choose to use them?
Because they're oh, so nifty.
9) The guitar solos are incredible on the album. The wailing of the guitars in some songs is kind of jazzy and cuts right through you. It's mind-blowing. Rob also really likes the funky bass sounds that underlie most of the songs on Redemption. Not many bands have a nice, dominant bass going. Are you influenced by anything or anyone in particular when you write for those instruments?
You'd need to speak with Vora about that; however, I believe that she's mainly influenced by mind-blowing, jazzily crafted meat substitutes that cut right through you...
10) What is the band up to currently? Are you working on new material, are you touring, or are you taking a break for now? Where do you see the band going in the future?
I lost most my future sight quite some time ago – now I can only predict the lottery...
11) I read something on your website that said you guys created the genre "Progressive Darkwave." Tell me about how this came about, who gave your music that name, and what you think about it all.
When we first started Braindance, we never really knew what it was that we were doing in the sense of categorization – we simply produced tasty nuggets intended to please ourselves and the temperamental amphibians we surrounded ourselves with. When Vora and I first met, I hadn't even listened to contemporary music for four or five years, and didn't exactly know what genre I would have liked to have been associated with. It was only after receiving press and response from both the goth/industrial/darkwave community and the progressive community, that we came to be familiar with terms such as gothic, darkwave, ambient, industrial, progressive, death, symphonic, epic, black, doom metal, etc. In fact, I'm still not clear (and have yet to receive a satisfactory explanation) on what those terms and their respective boundaries are. Perhaps if I had been clear on those terms and how they are supposed to be communicated musically, we'd be doing something completely different than Braindance, something completely identifiable (and non-threatening by industry standards), and probably making more money doing it
12) Who produces the cool artwork found on your site and album?
Marc Latrique, a highly talented comic artist, penciled the cover art for both Fear Itself and Redemption. The inserts to Fear Itself also features work by Marc Silvestri, the genius behind Witchblade and the Darkness. Artwork on both the site and the releases have been conceptualized by me, however, if not for the unbelievable talents of our graphic designer, Kevin 'Pavement K2000' Beard (from Stuff magazine), and our web designer, Glenn 'Generous Wisdom' Westrom (from Muletrain Studios), we'd be forever lost...
13) If people want to see you perform live, where can they go to see you?
Only at the most lavish nightclubs in and around New York City.
14) What's the best thing about being in a band like Braindance?
It's got to be the power of flight...