Brainterviews
INTERVIEW WITH
SEBASTIAN ELLIOTT OF BRAINDANCE
ORKUS MAGAZINE - USA
WINTER, 2016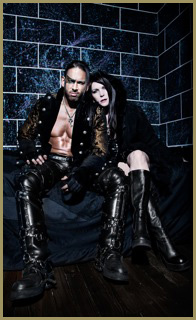 The music-scene had to wait a very long time for a new album from you. Why? What have you done in this nearly 13 years?
It may have seemed like an eternity to those outside the project, but continuous attention to the many facets of Master Of Disguise within, having worked on the material since 2003, and even performing some of it live as early as 2004.
After nonstop grinding since 1992 with the common practice of write, record, perform, repeat, we decided to take our time with this one.
Given that the only deadlines we have in this project are self-imposed, and given the significantly larger scope of Master Of Disguise, in retrospect, I now believe that we probably took as long as it was necessary to take - if that makes any sense.
We wanted to shoot for something that could stand far beyond the consideration of time. We've been doing this for almost 25 years, and at a certain point, I believe, time becomes a constant, and all that counts is the finished product, above and beyond any deadlines.
This breathing room - and attention to a variety of detail over a longer (than usual) period of time - led to a longer maturation period, from the sound and material to the visual concept and packaging.
Would you say, your music (style, characteristic elements) actually similarly sounds like in the past?
Pretty much in the same vein of 2002's Redemption, although certainly turned up a bit on all fronts. Still the same monster mash of goth, industrial, electronic, ebm, synthpop, progressive metal, classic metal, progressive trance, vocal house, and modern classical music, much like sisters of mercy meets rammstein meets depeche mode meets KMFDM meets delerium meets queensryche meets dio meets maiden meets ozzy meets yngwie meets dream theater meets vai meets killswitch meets type o meets kamelot meets nightwish meets van buuren meets nero, deadmau5 and britney spears at a parent-teacher conference.
What are possibly the differences? Maybe, you´ve used new technical possibilities or you´ve got new influences in the last years (if yes, please tell us, which.)
New haircuts and dietary precautions for sure.
Are there generally still influences for you in the dark-music-scene or are yourselves still too long a member of this scene to find something new, interesting for you?
Although i'm still a fan of anything with dense programming, multi-layered composition, distinct melody and of a darker nature - most of the time i'm digesting a tremendous amount of material weekly for work purposes - hip hop, reggaeton, pop, dance, house, etc., and being that I work at least five nights a week, don't spend nearly the same amount of time hanging out or frequenting darkwave establishments as I did twenty years ago.
Your newest output is a concept-album, I think. Please tell us some facts about the concept. What is it about?
Master of Disguise is most definitely a 'concept' album which draws upon solid ancient Egyptian and Mayan themes within the setting of a parallel universe.
Without giving away too much, it tells the story of a powerful pharaoh-like being who had everything that anyone could ever want. upon the discovery of an ancient relic - the Braindance amulet - he ends up questioning his beliefs and eventually destroying everything around him.
And who has the idea for this concept? Was there a concrete reason, a cause for the concept (maybe a film, a book, a journey, a wish, ...)?
Not sure why, but I guess I've always been drawn to ancient civilizations, and knew that the new material could fit nicely against a setting with such depth.
What is the fascination for you in the Egyptian culture or in the Maya culture/age? Would you like to have live in these times, in these cultures? Why or why not?
Not sure. I had been doing a bit of reading on ancient civilizations - those two in particular, and it just seemed like the right universe in which to take the amulet to. Maybe it's the warm weather. :)
What is the message of your new album?
I wanted to convey the concept of identity loss and confusion under a simultaneous barrage of apparently unlimited information, or dense communication.
And what are the teachings of the story you tell us with the new songs?
As with previous Braindance material, there are definitive topics contained within each track that i can closely identify with emotionally, however they are communicated within a (hopefully entertaining) science fiction or fantasy framework that runs parallel to the emotional underpinnings.
I also believe in a good measure of ambiguity when writing lyrics. naturally, the themes have specific meanings for me, but i try not to assign definitive conceptual values to our material, because i believe listening should be somewhat interactive. insofar as everyone's experiences are different, so should their interpretations be. whereas i might see despair and desolation, someone else might see oatmeal cookies.
Obviously, I am not the individual described above (at least in my present incarnation), and have never experienced what our protagonist has, however i think all of us can relate to the concept of questioning one's beliefs, feelings of hopelessness, and of becoming lost within one's self.
You also have create a great, extensive artwork for the album. Please, could you tell us, how you´ve got the idea for all these difference parts of the artwork? Is every part standing for itself?
Thanks.
As you can imagine, since the release of Redemption, there have been quite a few developments within the recording industry, most particularly with regards to physical distribution. album sales have dropped like a stone - and although i'd like to think that the majority of our fans are still the kind of folks that have the desire to digest a larger experience (and purchase albums) - i nevertheless wanted to provide a tasty reward for those fans, like myself, who consider the packaging and associated imagery to be an integral part of the experience.
A good friend (and unofficial advisor) of ours, whose opinion i hold in high regard, took a look at the completed five panel foldout, and strongly suggested i take the artwork further in order to give the fans something special. One thing led to another, and the entire packaging concept fell into place over the next few years.
For Master of Disguise, I did quite a bit of research on the history, religion, architecture, fashion, and overall culture of ancient Egyptian and Mayan civilization and society. I also spent a lot of time reading up on the history of written communication, from cuneiform and Egyptian and Mayan hieroglyphs and pictograms to Asian scripts, Cherokee alphabets and Anglo-Saxon and Nordic runes, and spent as much time reviewing archeological artifacts from around the world and their associated inscriptions. In particular, I focused on religious practices, burial techniques, and theories on the afterlife from ancient Egyptian civilization, drawing regularly from texts such as the Book of the Dead.
I spent of lot of time researching these different areas, because I wanted to convey the concept of identity loss and confusion under a simultaneous barrage of apparently unlimited information, or dense communication. I wanted to convey those ideas visually wherever possible, and in as many creative ways as possible. By creating an alphabet from every alphabet every created, by re-creating recognizable archeological artifacts within the packaging, and by creating a story in the which there existed a parallel society whose nature of communication was as perplexing as identity loss is, I felt that I paid attention to the underlying emotional challenges as well as presented something unique that draws the viewer (or listener) in, and makes it interesting enough to stay for awhile.
For the 'Golden Glyphs', i researched 60 alphabets from the very beginning of recorded time and chose five characters per alphabet to replicate in order to create a 300 character custom designed alphabet. These characters, visually presented in random (or not so random) order could easily be taken at face value as solely a form of hieroglyphic communication (and perhaps a moderately attractive visual effect), but the message behind choosing a visual comprised of a multitude of apparently non-compatible glyphs - and a main theme running through the entire album - again, is one of identity confusion amidst information.
And why this effort, this big investment in the artwork in the age of "sucking music from the internet"? Or do you think, your fans mostly are older people, still buying a cd? (this is not a joke, I think, the suck-and-share-mentality of the music-user is a problem for the artists, don´t you agree?)
Whether good or bad, we've never been classified as anything other than 'underground,' and don't have a history of having reaped the traditional 'rewards' that signed bands have traditionally enjoyed - even basic support like radio promo, press rep, distro, and tour support. Since day one, we've done everything ourselves, relying on 'underground' magazines, webzines, radio stations, and most importantly, word of mouth to spread the word of this thing we call Progressive Darkwave exactly as we're doing it today.
As a self-produced entity, there's only so much we can do to promote the album without incurring some serious expense. But I believe that sending and promoting the distribution of physical product is important to maintain the magic that one used to experience when opening an album jacket, or CD booklet, or even a cassette j-card. It seems that as a moderately theatrical project, the least that we can do to keep the aforementioned excitement alive is to offer something more than a few digital downloads.
What are the next plans of Braindance? When can we await the next album?
Doing local shows to promote the album with our fantastic new lineup, and trying to steer clear of pizza and ice cream binges. new release? 2020 or so. hang tite. ;)
Thank you for answering my questions.
A pleasure, Axel - thanks again to you and Orkus!