Brainterviews
INTERVIEW WITH
SEBASTIAN ELLIOTT OF BRAINDANCE
NIGHTSHADE MAGAZINE, FRANCE
SUMMER, 1999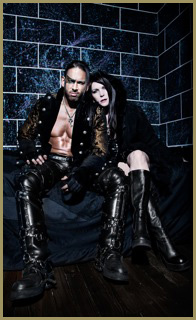 1. Can you briefly introduce BRAINDANCE and its members to Nightshade readers?

Braindance is comprised of vora vor, guitars, ferret enchilada shavings, programming, and caulking production - I and I alone control all of the spackling, scraping, and sanding within the double edge territories
2. If I understood correctly, BRAINDANCE is an unsigned band. Could you precise what the situation actually looks like? Is Double Edge Music your own production and promotion entity?
Yes, you've grasped the essence - braindance is technically an unsigned act, and thus, double edge music functions as a record label and management in name only. except for the 25 or so individuals who lend their talents because they believe in the project, braindance is self-produced, - we've been blessed with the learning of this wonderful business as we go....
3. Apparently, your second album "Fear Itself" received a warm welcome in the US underground environment. Didn't you receive any offer from labels afterwards?
from the start, we felt we owed to ourselves to become recording artists - I don't believe in granting people the right to decide when my career starts. Fortunately, quite a few misguided people out there in candyland felt like spending their hard earned ducats on braindance merchandise. we've had limited dealings with limited companies with limited integrity and limited dealings with limited companies with limited funds, but nothing substantial. insofar as being passed over is concerned, my subjective reasonings are as follows - in other words, there are two plausable reasons why I believe the industry has not responded to braindance, no matter how many kids support the project:
What we do frightens labels and frightens persons who are responsible for financial return within those labels. Independent labels as well as majors have risk to contend with. In order for a major to dump a heap of cash on you, they've got to be sure that your music has succeeded in other realms - their competitor must have had one of you, and have done rather well with them. If you're the goober in a&r who signed a maverick artist who didn't do well at the finish line, then you're the goober who's looking for a job at the end of the week. Independent labels, for the most part, cater to one form of music, or one specific genre or sub-genre. Because what we do crosses a few different sub-genres, there is no 'niche' for us, even in the independent world, which prides itself on promoting new, exciting, underground music. We're too heavy for goth labels, we're too goth for progressive labels, we're not heavy enough for doom metal labels, we're too industrial for metal labels..... When we began braindance, I had no concept of what these terms meant, and in many ways, I still don't. it wasn't until our music was reviewed regularly that these terms came into play
We suck ass.
4. Your music is commonly depicted as a mixture of gothic/darkwave and progressive metal. Without commenting on that, I myself would name SAVIOUR MACHINE and TEARS FOR FEARS as your most obvious biological parents. Do you agree?
I'm not familiar with saviour machine, but by the tears for fears comparison, I'm assuming that you find similarities between my voice and his. I've also heard rick astley and tom jones, but i'm most particularly fond of the burl ives likeness during his sauerkraut and borscht days...I've heard everything from rammstein to paradise lost to tiamat to depeche mode to fear factory to queensryche to type o negative to kmfdm.....i think it's more camparable to dmx meets britney spears....
5. With such a complex style, I guess composing a song must be quite a serious undertaking. How do you actually proceed? Is there any particular order in which the instruments are supposed to be superimposed?
Vora usually comes to me with the framework of a song. At that point, the two of us make efforts to clarify the integral structure and develop the essential direction of the song. Vora is generally responsible for arrangement, and my main concern as a songwriter in this project is with vocal melody, lyrics, and song structure. Basically, I'm a simpleton - I write according to what sounds nifty. Personally, I don't give a fuck how complex an arrangement is or how technically gifted a band is if there is an absence of memorable melody - a good song is a good song, whatever the format.
6. When speaking of gothic metal from the States, I supposed it is impossible not to mention Marylin Manson. What is your opinion on this rowdy contagious phenomenon? Do you as well in your own idiom try to vehiculate a message towards a targeted category of persons?
I've never associated marilyn manson with a 'rowdy contagious phenomenon', but perhaps that's because I'm too old to be affected by it socially. I'm not a tremendous fan, although I do like some things they do musically. I think the phenomenon exists for the shock value, and for that reason, I just see it as a logical procession with premier american hard rock, from motley crue, to guns and roses, to manson. His format happens to resemble gothic music, and perhaps, it has widened an audience for those of us who create dark music. I think he's quite intelligent and highly motivated, and certainly deserving of some respect. As far as a message to our fans, it's simple - bring us as many rodent and cheese calzones as you can possibly find.....
7. In Europe, we have for instance a band called THE GATHERING palying a very accessible kind of atmospheric metal, which concerts are always the occasion for fans from very different horizons (rock, folk, pop, gothic, death-metal, world music...) to gather and meet in healthy communion. Do you find the same kind of poly-directional feeling at your own shows?
I think europeans on the whole are more accepting of hybrid music, and that's why the scene, in my opinion, is flourishing. our fans are generally a mix of goth/industrial kids, progressive fans, metalheads, and crippled salamanders....as far as a healthy communion, I'm not so sure - I think most braindance fans are like us, self-deprecating, cynical, and filled with goat cheese....
8. Now after three albums, BRAINDANCE has reached a point where your implication must tend towards full-time. Is your career always compatible with the members' personal obligations?
Our implications certainly tend towards full-time, however, our wallets are significant part-timers. although fear itself did very well, this album has bankrupted us, damaged our credit and reputation, and significantly limited our ability to rent out the plaza weekly for 500 of our closest friends and 50 dancing frogs.... Seriously, though, redemption should have been out nine months ago, if not for financial constraints. Everything is tracked, and ready for mix - We have day jobs, so braindance is, for now, the members' personal obligations.... (at this point, anyone with money and a desire to see the release of redemption should contact us immediately....do it.......do it.....now........do..it...right......now......)
9. Are you satisfied with the level reached on "Redemption"? Apart from maturity, to what extent do you consider that you technicity, skills and so on have improved since your debuts?
I'd be holding back if I didn't say that this is the album I've always wanted to make. we've taken all of the successful elements from fear itself and heightened it significantly - the songwriting is superior, the production is superior, the soundscape is broader, and the performances, arrangements, and overall direction have grown considerably. it's been over three years since the release of fear itself, and naturally, the pain that we've acccumulated since then is represented on redemption - hostility and bitterness have not only granted us limitless suffering, they have contributed to an album I'm sincerely proud of....
10. I guess everyone in the band brings a particular influence. Could you name some of your sources of inspiration (movies, authors, other bands...)?
both vora and myself grew up as tremendous science fiction geeks, and comic art nerds, and I think that the dark fantasy element blends nicely with what we've done musically.