Brainterviews
INTERVIEW WITH
SEBASTIAN ELLIOTT OF BRAINDANCE
MUZIK ALUTIS, LITHUANIA
FALL, 2006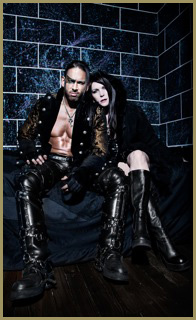 1. So, what's up? How it going with your new album?
Eggs-cellent, my friend – thanks for asking - we're roughly 80 percent done at this point, and pleased as to the way everything is progressing...
2. Your band existing for 14 years, but released only 3 albums, as I understood. Why?
Good question. A few years' of life in between each one, I guess...
3. What is more important for you? Live shows or album recordings?
Tough question, but I think I enjoy both equally. These days I'm really into bowling.
4. Your cover design is very interesting, why did you choose such style?
By the cover design, I'm going to assume that you mean the interior designs. I'm very much a comic fanatic – batman, spider-man, the punisher, daredevil, the darkness - and certainly a fan of many sci-fi or fantasy adventure mediums – star wars, dune, the matrix, aliens. Each cover represents a segment of evolution that is joined by a few key elements. They're has always existed a larger story behind each of the covers, and would someday love to put together an animated feature or something delving into those stories. Of course, that would come long after the braindance action figures have arrived.
5. Do you drink alcohol during rehearsals and shows? Which kind of alcohol? Love beer?
Actually, I'm a very large fan of drinking sweet, deep, dark lager and stouts...especially whilst bowling.
6. What is your worst nightmare?
You're looking at it, pal...
7. What about living in USA? Can you afford became famous with your music there? is the new york scene full of your style music and clubs?
Actually, last night I was out with Paris Hilton, Tommy Lee and Lindsay Lohan...we had bagels with spicy whitefish salad from Russ & Daughters....what a time...I'm sorry, where were we? No, no progressive darkwave facilities to think of, here in gotham.
8. Does only music joins men and women in your band? Maybe you do have some family in the band?
We had a lizard once that was considered family. Zeke the Meek, we called him, because of his meekness, of course. And as you well know, nothing joins humanity together tighter than a meek lizard.
9. Making lots of bodybuilding? Maybe you're sportsmen?
Ummm...
10. Do you know Lithuania? Country this interviews comes to?
Wish I were there, my friend – it's raining here...
11. Last question - tell everything you want...
I don't like the rain...thanks for the interview and keep in touch.