Brainterviews
INTERVIEW WITH
SEBASTIAN ELLIOTT OF BRAINDANCE
THE MAYFAIR MALL, ENGLAND
FALL, 2001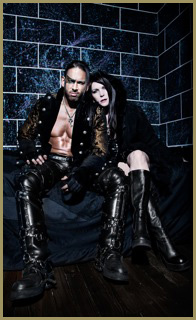 1. Introduce the band members to us and where do you call home?
Braindance consists of vora vor, responsible for production, programming, arrangements, keyboards, and guitars, and myself, responsible for minced onions, parsley, and braised shallots. We have between three and five revolving members, human and otherwise, responsible for percussion, basses, keyboards, voices, and a myriad of other aural excitements that we'll be performing with live.We're from new york, the city of hostility and bitterness.
2) When was the band formed and how did you all meet?
In the early 90's, I was finishing study in psychology at New York University, and felt a tremendous hesitancy towards continuing my education directly after college, with specific regards to engaging in research at the Ph.D. level. Having abandoned music altogether after a miserable year at the New England Conservatory three yearsbefore, I decided to give music another shot and began to search for musicians through classified ads in several local music papers. I received hundreds of tapes over the course of a year, but the only ad I responded to was vora's search for a singer. The bio is correct in stating that we were 'originally conceived as a studio project" — our sessions mainly consisted of writing material, developing lyrical concepts, and committing them to tape, some of which would appear on 1994's Shadows EP. Ultimately, It was the image of tiny gnomes embedded in sweet basil mashed potatoes that inspired me to seek out progressive darkwave...
3) Your music has been described as many things including Progressive Goth. How would you describe your music and who do you think it would most appeal to?
When we first started braindance, we never really knew what it was that we were doing in the sense of categorization — we simply produced tasty nuggets intended to please ourselves and the temperamental amphibians we surround ourselves with. When vora and I first met, I hadn't even listened to contemporary music for four or five years, and didn't exactly know what genre I would have liked to have been associated with. It was only after receiving press and response from both the goth/industrial/darkwave community and the progressive community, that we came to be familiar with terms such as gothic, darkwave, ambient, industrial, progressive, death, black, doom metal, etc. In fact, i'm still not clear (and have yet to receive a satisfactory explanation) on what those terms and their respective boundaries are. Perhaps if I had been clear on those terms and how they are supposed to be communicated musically, we'd be doing something completely different than braindance, something completely identifiable (and non-threatening by industry standards), and probably making more money doing it. To answer your question, our music would most likely appeal to anyone devoid of any musical taste or discretion.
4) Where does the name Braindance come from?
It is derived from cryptic ancient mayan slang, translated loosely as 'one who enjoys spicy jalapeno blintzes whilst urinating'
5) What instruments/equipment does the band use?
I like the Q-Tip, whereas Vora chooses the loofa every time.
6) What bands/artists have inspired you the most over the years?
On the whole, and not surprisingly, I'm a fan of all of the sub-genres that make up Braindance — goth, industrial, progressive metal, darkwave, classical, progressive trance, and sauerkraut — generally, anything with dense programming, multi-layered composition, distinct melody and/or of a darker nature. Currently I'm listening to a lot of house, progressive trance, and techno, but my tastes have changed over the years, listening to classical, industrial, progressive metal, ambient trance, black metal, and cheese rock...
7) What one possession could you not live without right now?
Boxer briefs.
8) What was the last album you bought?
The soundtrack to Conan the Barbarian — fucking fantastic...
9) What do you feel has been the bands biggest accomplishment so far?
Staying together whilst being ignored by the industry at large...
10) Who writes the songs that you perform? Is it a solo effort or more of a band thing?
Vora usually comes to me with the framework of a song. At that point, the two of us make efforts to clarify the integral structure and develop the essential direction of the song. Vora is generally responsible for arrangement, and my main concern as a songwriter in this project is with vocal melody, lyrics, and song structure. Basically, I'm a simpleton — I write according to what sounds nifty. Personally, I don't give a fuck how complex an arrangement is or how technically gifted a band is if there is an absence of memorable melody — a good song is a good song, whatever the format.
11) The band have just released their new album 'Redemption', tell us a bit about it and from where can it be obtained?
I'd be holding back if I didn't say that this is the album I've always wanted to make. We've taken all of the successful elements from fear itself and heightened it significantly — the songwriting is superior, the production is superior, the soundscape is broader, and the performances, arrangements, and overall direction have grown considerably. It's been quite awhile since the release of fear itself, and naturally, the pain that we've acccumulated since then is represented on redemption — hostility and bitterness have not only granted us limitless suffering, they have contributed to an album I'm sincerely proud of. Aside from a very talented group of artists, designers, street teams, and fans who help us survive as a self-produced entity, vora and I are completely responsible for production, promotion, publicity, bookings, management, financial considerations and distribution. We've had limited dealings with limited companies with limited integrity and limited dealings with limited companies with limited funds, but nothing substantial. From the start, we felt we owed to ourselves to become recording artists — fortunately, quite a few misguided people out there in candyland felt like spending their hard earned ducats on braindance merchandise over the years, and i think we've been extremely fortunate to have independently received an overwhelmingly positive response worldwide. Aside from various independent distributors and online distributors, Fear itself and Shadows have been, for the most part, distributed through progressive darkwave recordings directly, either through mail order or at Braindance shows.
12) Which Braindance track is your particular favorite and why? It changes from day to day, although at this point, I've listened to it so often that most of it sounds like the Macarena.
13) Have any of the any of the band members featured in any other bands before Braindance?
Vora and I both were in the original lineup of KISS, she being the sand beetle, and me, the raisinet.
14) If one of your songs could feature on any cult program/film, which song would you choose and where would you like it to feature?
Dune, Dark City, or Saved by the Bell, the early years...
15) Do you have any plans for a tour and is there a possibility of including some European dates?
Until braindance is affiliated with a label that has enough money for tour support, we're stuck performing to the disgruntled children of the greater New York area.
16) When you die would you like to be buried or cremated? What final words/phrase would you like used for your epitaph? I'd like to first be marinated in a tangy, yet viscous broth, then simmered over a low flame in a skillet for 40 minutes. For an epitaph, I can't decide between "through the eyes of misery, everything looks grim", or "regular flossing and brushing are essential ingredients for successful oral hygiene"...you choose...
17) What song would you choose as the soundtrack to your life?
Redemption.
18) Tell us one thing about yourself that not many people know.
I'm really, really cool.
19)Have you ever dabbled with the unknown?
Every fucking day.
20) Lastly, is there anything you would like to say to all your fans out there?
Yes.