Brainterviews
INTERVIEW WITH
SEBASTIAN ELLIOTT OF BRAINDANCE
LORDS OF METAL WEBZINE, THE NETHERLANDS
WINTER, 2002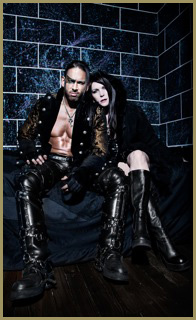 1) i'd like to start with the most obvious question: who is braindance?
the highly pretentious and slightly unsightly progressive darkwave project from new york. Did I guess correctly, and if so, what have I won?
2) i think there is a big difference between the songs which were originally on the pre-production from 1998 and the three new songs which were added on the final release of redemption.

a) no offense, but why are these songs so chaotic?



the years between 1998 and 2001 gave birth to much chaos. offensive chaos...we wrote and subsequently tracked the album over the course of 1998, and into 1999. unfortunately, several tragedies would follow that prevented redemption from being released as scheduled, including parting ways with long-term drummer notorious, keyboardist/backing vocalist robynne naylor, bassist andy calcina, and more than a handful of flaky investors, production houses, and labels for the cd's release.
b) is this a foretaste for a new direction in style you're going to follow in the future?
yes — i think any great meal must be preceded by a tasty, yet salty foretaste, like antipasti.
c) how are things going with new materials? do you already have new songs, or are you taking a big vacation after the late birth of redemption?
after a cruise 'round the world with the finest chocolate money can buy, we're going to lock ourselves away in the tower, and hopefully release a new album this year. it will be a concept album, based upon the underlying class struggle between the pushpin and the bulletin board.
d) what have you done in the time between the pre-production and the final release?
i've entered into a credit agency that has consolidated all of my debt into one, manageable monstrosity. currently, we're writing new material, and preparing for live performance with new bassist david z, drummer jofu, and keyboardist constantin v.
3) some say you've created a whole new style, others think your music is a hybrid of different styles.

a) where would you place the music you're playing?



in the trash receptacle. when we first started producing music, we never really knew what it was that we were doing in the sense of categorization — we simply wrote music for the lost children, removed from current musical (not to mention fashion and social) trends. it was only after receiving press from the goth/industrial/darkwave/metal/progressive community, that we came to be familiar with terms such as gothic, darkwave, ambient, industrial, progressive, death, black, symphonic, epic, doom, etc. in fact, i'm still not clear (and have yet to receive a satisfactory explanation) on what those terms and their respective boundaries are. perhaps if i had been clear on those terms and how they are supposed to be communicated musically, we'd be doing something completely different than braindance, something completely identifiable (and non-threatening by industry standards), and probably making more money doing it.
b) in overall the songs are very dark and melancholic. where does this melancholy come from?
it most likely stems from a lifetime filled with the joyous celebration of life. the melancholy oozes like fresh sap from the tree of bitterness.
4) you've always been a self-producing band. you have had some deals, but in the end it hopelessly failed.

a) what went wrong?
that is correct. braindance is technically an unsigned act, and thus, progressive darkwave recordings functions as a record label and management in name only. we've had limited dealings with limited companies with limited integrity and limited dealings with limited companies with limited funds, but nothing substantial. except for a number of individuals who lend their talents because they believe in the project, braindance is self-produced — we've been blessed with the learning of this wonderful business as we go.. i feel very fortunate to have had so many people pick up on what we're doing, and purchased our releases, but doing it by yourself takes a strong toll, especially financially.
b) how did you manage to finance 'redemption'?
by sacrificing the greater pleasures of this world.
c) are you also responsible for the distribution of the album, because i can't find any distributor in the booklet of the cd?
yep.
d) where is it distributed in europe?
Nowhere, other than independent distributors & stores.
5) in your interviews and your information you often speak in riddles and metaphors like: 'braindance is about wine, insecticide and song, all within the shell of a soft flour tortilla...'. personally i think it does make the text very hard to read, especially for a foreigner like me. why have you chosen for writing most of your information in this style?
i find it difficult to take myself unusually seriously in an interview situation. besides, it's just so fucking entertaining, isn't it?
6) i find it difficult to take myself unusually seriously in an interview situation. besides, it's just so fucking entertaining, isn't it?
vora slaves as a web site developer and i spread myself thin promoting large new york city nightclubs and alternating between causing and releasing pain as a personal trainer. we both run the day-to-day, year-to-year activity of running progressive darkwave recordings. recently, vora has been getting involved with independent film production and i've been dabbling in the field of voice-overs.
7) what are your ten all time favorite albums and why?
| | | |
| --- | --- | --- |
| j.s. bach | musical offering | vision, power, passion and darkness |
| queensryche | rage for order | vision, power, passion and darkness. |
| peter gabriel | music from the last temptation of christ | vision, power, passion and darkness. |
| cradle of filth | cruelty and the beast | vision, power, passion and darkness. |
| depeche mode | music for the masses | vision, power, passion and darkness. |
| neil diamond | greatest hits | vision, power, passion and darkness. |
| iron maiden | number of the beast | vision, power, passion and darkness. |
| alice in chains | dirt | vision, power, passion and darkness. |
| black sabbath | heaven and hell | vision, power, passion and darkness. |
| mariah carey | butterfly | vision, power, passion and puffy. |
| | | |
8) what is the latest news about braindance?

we've decided on snickers as the as the official snack food of braindance for the new year. packed with peanuts, snickers really satisfies...