Brainterviews
INTERVIEW WITH
SEBASTIAN ELLIOTT OF BRAINDANCE
LEGENDS MAGAZINE – U.S.A.
SUMMER, 2003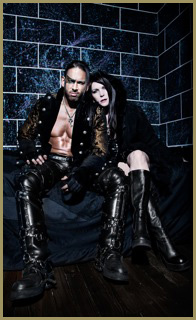 1) What were your goals in life before Braindance?
A genetic clone of myself that was constructed just prior to graduation from college is currently fulfilling those goals.
2) How and where did you meet Vora Vor?
Through an ad in the East Coast Rocker (The Aquarian), which is a New Jersey based publication that hosts one of the decent classifieds for musicians. We placed ads at the same time and I responded to her ad for a billiards partner.
3) Initially formed as a studio project in 1992, what motivated you and Vora Vor to start this brand new type of music called progressive darkwave through Braindance and keep it lasting longer then a studio project?
I had eaten some bad oysters that week, and at the time, it sounded like a good idea.
4) What genres influence progressive darkwave music, the new genre of sound that you have invented?
I don't know if we've invented anything other than anchovy-encrusted pretzels dipped in cottage cheese, however, Braindance has certainly been influenced by dark hybrid metal, goth, electro, industrial, progressive metal, darkwave, classical, progressive trance, and dark house.
5) What kinds of music and groups do you personally listen to?
I'm a fan of all of the aforementioned sub-genres that make up Braindance - anything with dense programming, multi-layered composition, distinct melody and/or of a darker nature. I try to keep abreast of current underground music, being that I receive publications from all over the world and am compelled to inquire about the projects contained within.
6) How did you and Vora come up with the name "Braindance"?
I believe that Vora came up with the name and I said 'good golly – that's a keeper!"
7) You guys have been around a little over ten years, and have played in many New York hotspots that serve the rock/industrial/goth community such as Batcave, L'amour, Don Hill's and The Bank as well as many, many others. How have you seen these scenes grow and take liking to the music that you create?
When we first started Braindance, we never really knew what it was that we were doing in the sense of categorization. For years, I didn't even listen to contemporary music, and didn't exactly know what genre I would have liked to be associated with. It was only after receiving press and response from both the then-burgeoning goth/industrial/darkwave community and the up-and-coming progressive metal community, that we came to be familiar with terms such as gothic, darkwave, ambient, electro, industrial, progressive, death, symphonic, epic, black, doom metal, etc. I don't believe there were any goth/industrial parties when we began, although there were several hard music venues, and more than a handful of establishments that catered to sleaze, punk and what was considered 'indie' or 'lo-fi'. I have seen several of these scenes emerge, grow, and then die, none however taking a liking to the music we create.
8) Throughout the history of the band, you have seen members come and go like shifting of the seasons. Who are your current members now, what instruments do they play and what is some of their history before being recruited for the almighty band you call Braindance?
Almighty? Hardly. It's like high school – one day you're the youngest lad and everything is terrifying and exciting; within the blink of an eye, you're the senior that's been left back year after year. Currently, we've been blessed to have found Beka, our new keyboardist and vocalist, David Z, our bassist, and Jonah David, our new percussionist extraordinaire.In short, Beka is a recent Julliard graduate, David Z (formerly of the Joan Jett band) is a permanent member of the Trans-Siberian Orchestra and ZO2, and Jonah has experience in every possible genre you can think of. They've been with us a year thus far, and it's amazing that they're still putting up with us.
9) The power of flight that the music you and your band amplifies is unlike anything on this earth. For each song that you do, what do you try to convey through the music and lyrics to those who listen to Braindance?
The power of flight is not to be taken lightly, and thus, is highly classified.
10) In your lyrics, what are some topics that you sing about that highly interest you?
I like to write lyrics that can be interpreted several ways, although at least one of those ways affect or have affected me. In actuality, I'm very interested in Ben & Jerry's coffee heath bar crunch ice cream, and I don't believe I've written anything about that marriage.
11) I read that Marc Latrique, the extremely talented comic artist, penciled the cover art for both Fear Itself and Redemption. The two album covers are extremely gothy and seem a bit sci-fi with a great dark twist to them. How do you think it is intertwined with your music and appearance?
The very talented Marc Latrique did indeed pencil the covers for both Fear Itself and Redemption. Both were conceptualized by me, and might be best interpreted only after speaking with my last therapist. Vora and I have been tremendous science fiction geeks and comic nerds for life, and I wanted that to be evident in the packaging as well, our distasteful appearance notwithstanding.
12) Being a technically unsigned act, how do you expose Braindance to the whole world and what is the response from the people that have heard of Braindance and bought your music?
Good question. From the start, we felt we owed to ourselves to become recording artists - I don't believe in granting people the right to decide when my career starts. What we do frightens labels and frightens persons who are responsible for financial return within those labels. Independent labels as well as majors have risk to contend with, and in order for a label to dump a heap of cash on you, they've got to be sure that your music has succeeded in other realms – their competitor must have had one of you, and have done rather well with them. Independent labels, for the most part, cater to one form of music, or one specific genre or sub-genre and generally operate no differently – as a business. Because what we do crosses a few different sub-genres, there is no 'niche' for us, even in the independent ('underground') world, which prides itself on promoting new, exciting, underground music. We rely on underground magazines, webzines, radio stations, and most importantly, word of mouth to spread the word of progressive darkwave. Then, of course, there is the overly zealous and very aggressive distribution of paper leaflets, flyers, and postcards that can be seen littering the cement outside of many venues. Fortunately, over the years, misguided individuals have spent their hard earned ducats on braindance merchandise, and I think we've been extremely fortunate to have independently received an overwhelmingly positive response worldwide.
13) One of the meanings in the dictionary that I looked up of the word "Redemption" was "deliverance upon payment of ransom; rescue". Does that meaning have any significance on the lyrics/music on Redemption and the album it self?
The most profound definition in my dictionary is the one which reads, 'deliverance upon payment to the credit agencies', which has tremendous significance with regards to Redemption.
14) As a recording artist and musician how do you think Braindance has evolved musically and studio wise from Fear Itself to Redemption?
A large portion of the pain that we've accumulated since the release of Fear Itself is represented on Redemption – hostility and bitterness have not only granted us limitless suffering, they have contributed to something that I should certainly be proud of. We've taken whatever successful elements there were from Shadows (1994) and Fear Itself (1995), and heightened them. The production, arrangements, melodies, performances, and general songwriting is far superior to anything we're ever done, and the packaging is very, very shiny.
15) Any final remarks/words of wisdom for the readers?
Yep.