Brainterviews
INTERVIEW WITH
SEBASTIAN ELLIOTT OF BRAINDANCE
KREPUSKULUM WEBZINE, BRAZIL
FALL, 2001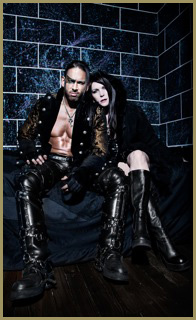 BRAINDANCE - This is an incredible prog darkwave project created in United States by two genious musical minds: Sebastian Elliott (vocals) & Vora Vor( guitars, backing vocals, ambience & programming), intense dark feelings with power and pop touchs. The new album REDEMPTION is a masterpiece of the style!
1 - Talk to us about the BRAINDANCE history. Why do you play this kind of music?
well we started out as a polka intermezzo trio , with accordian and balalankas, with sebastian handling the sugared salami between sets. That went over really well, actually, so we decided to focus on the art by immortalizing it with recording 1994's "Shadows", and 1995's "Fear Itself". But eiki, our bass player, was too distracted by the raisin gulash to focus on playing and left after that. We replaced him with andy bunk from chicago. He reputedly could play accordian and swallow apple-bacon pies in a single gulp, so we immediately hired him. He recorded with us on "Redemption", but choked on a slab of butter, so went home to chicago. Robin, the balalankist, also left before completing her complex triangle parts for our latest cd. She had a chronic burping problem and left to nurse it. Unfortunately, I had to complete the finger cymbal, the bullwhip, and the siren parts for "Redemption". She will be sorely missed. We have replaced them with the glutonous David Z. and Joe. We don't know their addresses or social security numbers.
2 - We can listen various influences in your music, echoes of 80's gothic pop rock, progressive rock and melodic heavy metal. What are the 10 best bands of all times and how this musics influenced BRAINDANCE?
These are my opinions only: Fishly Rembrandt and the Tendons (their 3rd 78" from 1923, with the memorable, "Give me Prunes or Give me Death"); Jake Death ("The Birth of Smell"); Severed Trunk and the Dilapidated Half Humans (Sebastian's former band); Bob Bobs ("Babies"); The Beatles ("You know my name"); Boo Radley ("Spam and Gods"); Spinalectemy's cover of "Girl, Got Ham"); The Theme from Toonz the Cat Who Could Drive; Tom Jones "It's Not Unusual";
3 - BRAINDANCE is a curious name, who it meaning for you?
It came to me suddenly in a wild orgy of armidillo puree and latex gloves. It is the inexplicable cusp between the organic and mechanical, fortified with 8 essential vitamins.
4 - VORA VOR is the multi instrumentist behind the complex atmospheres of BRAINDANCE's music, talk with us about your creative process.
My creative process begins with extreme sorrow or amusement. In moments such as these, it seems that I get most of my motivic, harmonic, and textural ideas. Some of these ideas stay with me a long time, sometimes years, before I admit to myself that they are worthy of instantiation in the world of phenonmena. Thereupon I launch myself into a period of intense work with either a guitar or a piano to hammer out an acceptible arrangement. This arrangement is put into an elaborate sequence in my studio, using either pro-tools or studio vision pro, or, nowadays, Reason or Rebirth. This work can last several weeks per song to find the correct acoustic analog to what I had been hearing internally. Then, I burn the demo and send it over to sebastian with some discussion about themes, harmonies, content, etc.
5 - Where come from the inspiration to write the melancholic and intespestive lyrics of REDEMPTION album?
After "Fear Itself", I foolishly wanted to jump into another recording project. This always happens to me, because I get so bored of the material I am working on, the recording process being so artificial and measured and mechanical. Some of the material for Redemption had been bouncing around my hypothalamus for years, e.g., Return. I wanted to do a concept cd about a near death experience I had, but we decided that would not be narcissistic enough, so we did a cd of the happy-go-lucky rock 'n roll songs that are on Redemption.
I think the idea for the song Redemption comes from a vision I had in high school about the journey the soul takes following the instant of death. There is common imagery in art and metaphysical writings down thru the ages of the cleansing the soul experiences as it rises inexplicably to its place of origin. Cleansing of lower animal emotions and physical cravings, purging of pride and regret, and love and lust, rage and disappointment. I envision this as the "relinquishing of mind", and I associate the actual planets and stars as metaphors of the soul's progress toward the empyrean. My vision was of these "souls" as delicate spherical membranes, (kind of like those plastic containers that gobberstoppers used to come in) from which we look out, vague indiscernible humanoid shapes from behind the sphere's surface. I saw these spheres as the Being within reached the ineffable moment of transmigration, whereupon it was lifted and surged "upward" like an inverse teardrop toward a blanket of clear white light. That is literally what that silly "ping" sound that pervades the song "Redemption" is: the sound of those sphere's as they released the vestiges of the Animal, or the Human, and rejoin into the plasma of Unknowing. Unfortunately, I am of the opinion that some souls will never grow the capacity to do this whole releasing and relinquishing shit. Some will, at that moment, turn an inner eye "back" toward phenomena and flux. I think that is the moment of reckoning: I think this white light will suffer no imperfection and will reject the ambivalence of these poor souls. It is a paradox: on the one hand, we choose to enter the domain of phenomena to experience a measured privation of our innate divinity, yet at the last, we are corrupted by the test itself, and cannot return.
6 - Are you NIHILISTS? Do you believe in the future of minkind??
Yes, we are nihilists. It is exhausting work.

Some of minkind are not homo sapiens. Wealth and material drains knowledge of mammalian suffering like a sive. I think the species is in crisis.
7 - The make up of SEBASTIAN remember us the make up of DEATH SS, a famous Italian hard rock band. Do you know this band?
Don't they do a cover of "You Light Up My Life"?
8 - The cover art of the new album is very inspirated in comic art, do you read comics? Talk about the meaning of these cover art?
While I am a hopeless sci-fi fan, especially of G-force and Aeon Flux, and japanimation, I am not a collector of comic art. Although I do appreciate that comics are basically storyboards for sci-fi movies, I view the medium as a beginning of expression, not a mature utterance in and of itself.
9 - Do you have plans for a tour to promote "Redemption"?
We are in rehearsal, even as I type this l..e..t..t..e...r.
10 - Give a message for the BRAINDANCE south american fans.

Suffer not the dearth of devilled ham, o ye brainiacs, for we are come, yea, we are come unto you like a sea of rich creamery butter.