Brainterviews
INTERVIEW WITH
SEBASTIAN ELLIOTT OF BRAINDANCE
METAL HAMMER, ITALY
WINTER 1999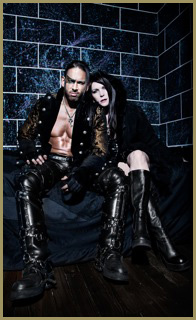 1. BRAINDANCE SEEMS TO BE A BAND PLAYING A HIGH ORIGINAL FORM OF PROGRESSIVE MUSIC

when we first started braindance, we never really knew what it was that we were doing in the sense of categorization - we simply produced tasty nuggets intended to please ourselves and the temperamental amphibians we surround ourselves with. when vora and i first met, i hadn't even listened to contemporary music for four or five years, and didn't exactly know what genre i would have liked to have been associated with. it was only after receiving press and response from both the goth/industrial/darkwave community and the progressive community, that we came to be familiar with terms such as gothic, darkwave, ambient, industrial, progressive, death, black, doom metal, etc. in fact, i'm still not clear (and have yet to receive a satisfactory explanation) on what those terms and their respective boundaries are. perhaps if i had been clear on those terms and how they are supposed to be communicated musically, we'd be doing something completely different than braindance, something completely identifiable (and non-threatening by industry standards), and probably making more money doing it. however, if you're defining 'progressive music' as music that pushes the envelope, then i'd gladly accept that categorization....
2. WOULD YOU LIKE TO EXPLAIN THE MOST IMPORTANT ASPECTS OF YOUR SOUND?
the first and foremost relevant aspect is the honey mustard marinade - no way, no how, are you gonna create progressive darkwave without it, son....however, i'd like to think that the second most relevant aspect of our sound is concise songwriting. i don't give a fuck about your technical prowess, your emotional conveyance, your philosophical or political views, your physical appeal, or your attitude if you can't write a good song. good songwriting transcends any genre, and comes in many formats, whether it's paradise lost or sarah mclachlan. to answer your question specifically, there are elements of dark metal, progressive hard-edged music, guitar-driven industrial, dark ambient, heavy electronica, and sauerkraut blintzes within braindance. the music has a dark, cerebral feel that stems from bitterness, hostility, frustration, depression, anxiety and perhaps self-loathing. we utilize techinical aptitude that is subtle enough not to overpower the emotive aspects of the song. the constant interplay between the technical, or mechanized soundscape and the stark human element can be used to communicate quite a few lyrical themes, whilst maintaining enough lyrical ambiguity to lend itself to listener interpretation, much like the wonderful 'choose your own adventure' books, so very popular in the mid-80's.
3. WHAT DO YOU LIKE ABOUT PROGRESSIVE MUSIC?
i think it's the moist filling that leaves you wanting for nothing...
4. I DIDN'T HAVE THE CHANCE TO LISTEN TO YOUR PREVIOUS RELEASES, WOULD YOU LIKE TO HELP ME?
sure - simply send over a check for merchandise - shipping, handling, and fondling always included....
5. YOU'RE WORKING AT NEW STUFF, IN WHICH WAYS DOES IT DIFFER FROM THE PREVIOUS STUFF YOU WROTE?
redemption, is by all means, the album i've always wanted to make. we've taken all the successful elements from shadows (1994) and fear itself (1995), and heightened them tenfold (or perhaps elevenfold). the production, arrangements, melodies, performances, and general songwriting is far superior to anything we're ever done, and the material, is, ebonically speaking, slamming, kid. there are eight singles on redemption, whereas fear itself had perhaps one or two. it has been over three years since the last release, and that misery is certainly represented on redemption.
6. THE SOUND OF YOUR NEW STUFF SEEMS TO BE A MIX BETWEEN PROGRESSIVE METAL COUPLED BY STRANGE AMBIENT FEELINGS, DO YOU AGREE?
it's hard not to agree with listener interpretation, since every journalist has described it differently. i've personally been experiencing strange ambient feelings, ever since experimenting with plumbing tools and cleansers....
7. WHAT IS YOUR WAY TO WORK A TRACK?
first off, i think a good warmup is essential for proper blood flow and muscle preparation. begin with a quick, easy lap around the track before stretching, as stretching cold muscles is never recommended. don't forget to stretch hips and buttocks, as well as stretching quads, hamstrings, and calves. start at a slow pace, and gradually work your way up to 60-70% exertion, stopping if dizziness or nauseau occurs. always cool down completely, as to prevent blood pooling, which causes circulation to operate below optimal functioning. remember, always consult your doctor before implementing any exercise regimen...
8. IS THERE A POSITIVE MOOD IN YOUR LYRICS?
we try to infuse a spark of hope, a light at the end of the tunnel, as it were, into an otherwise cynical and desperate journey....
9. WHAT DO YOU EXPECT FROM THE RELEASE OF 'REDEMPTION'?
it would be nice to expect fame and fortune, but we'd be satisfied with eating regularly. we were pleasantly surprised when niblets all over the world started picking up on fear itself, and we'd be more than thrilled to poison those very same niblets and their associates....
10. WHO DO YOU WANT TO REDEMPT?
as you may already know, double edge productions functions as a label and management in name only. vora and i take care of the production, engineering, publicity, bookings, promotion, and all the other fun stuff associated with running the band. seven years ago, we felt we owed it to ourselves to be recording artists, and began doing it our own way, learning painfully as we went. i feel very fortunate to have had so many people pick up on what we're doing, and purchased our releases, but it's been over three years since fear itself, and doing it yourself takes a strong toll, especially financially. unfortunately, due to financial constraints (read: we're fucking poor) the album has been delayed for nine months. to answer your question, at this stage, to have the album out would be a redemption of sorts.....
11. HOW DO YOU FEEL ABOUT THE SOCIAL SITUATION OF YOUR COUNTRY?
i've become increasingly more and more anti-social recently....
12. I NOTICED A GREAT THEATRICAL FEELING IN YOUR LIVE-ACT AND IN YOUR MUSIC, WHY?
i believe that most of today's laissez-faire performance standards dictate mundane musical expression. alterna-rock and the resurgence of punk rock has convinced the listener public that less is more. less technical proficiency is more, less production is more, less entertainment is more. i believe that more is more, and the greater the fantasy with regards to art, the better - i've got enough fucking realism in my life. i'd much rather pay to witness the extravagant than plunk down my cash-ola to see some realist's stab at mediocrity. entertainment should be entertaining.
13. WHAT'S ABOUT YOUR LIFE'S PHILOSOPHY?
through the eyes of misery, everything looks grim....
14. WHAT DO YOU WANT TO COMMUNICATE THROUGH YOUR MUSIC?
i'd like to communicate a sense of world domination and total compliance with all that we desire..caio....