Brainterviews
INTERVIEW WITH
SEBASTIAN ELLIOTT OF BRAINDANCE
GRAVE CONCERNS, U.S.A.
SUMMER, 2000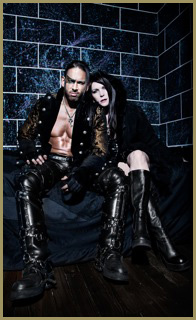 Julie : Can you give us a brief overview of what Braindance is about?
Braindance is about wine, insecticide and song, all within the shell of a soft flour tortilla...
Julie: How do you go about making your music objectively?
There's nothing objective about our music, it's actually quite subjective - the goal should, at least partially, to please one's self. I think it's important to produce music that you believe in, which represents a unique voice. I think it's also necessary to push the limits of not only what is out there, but also what you've created for yourself. I don't, however, think it's necessary to push small children down long, narrow staircases...
Julie: How do you incorporate your own attitudes into Braindance Music?
Surely the lifelong issues that we've had to deal with bleed over into the music. We write music of a darker cerebral nature, because experiences of a darker nature have colored our perspective, for better or for worse. If given the choice, I'd much rather produce music (or lasagna, for that matter), without being miserable. However, insofar as an artist's perspective is often clouded, surely our musical vision has been shaped by depression of varying degrees and intensities.

Julie: What kind of standards do you set for your sound?
As mentioned before, I think it's important to produce music that you believe in; that represents a unique voice. However I'm of the belief that a definitive sound or image is worthless if good songwriting is not present. Our approach is 'a good song is a good song', whether it's ska or trance or power metal, approaching melody in much the same way that pop songwriters do - it is simply the format that is different. Other standards include abducting na´ve schoolchildren and forcing them to consume large quantities of blackberry blintzes, whilst listening to hours upon hours of new brainmaterial. The survivors are then persuaded to purchase the entire back catalog...
Julie: Do you feel you have opened up a new sound in the genre mixing progressive and darkwave elements in your music?
When we first started producing music, I had no concept of descriptions such as goth, industrial, progressive, ambient, darkwave, or doom metal. It was only after we started receiving reviews that those terms came into play. Suddenly, other bands that produced dark hybrid music claimed us as being at the forefront of a new genre. I don't think that we've done anything unbelievably earth shattering - I'm sure that there's a lot of great hybrid music that is out there that combines musical intelligence with a darker intensity...
Julie: Are there any other bands in this scene that you look up to or feel is doing a good job? Who is your main influence?
By this scene, I assume you mean the goth/electro/industrial/progressive/darkwave/metal genre. On the whole, and not surprisingly, I'm a fan of all of the sub-genres that make up braindance - goth, industrial, progressive metal, darkwave, classical, progressive trance, and sauerkraut - generally, anything with dense programming, multi-layered composition, distinct melody, and/or of a darker nature. However, European crossover bands such as tiamat, theatre of tragedy, nightwish, within temptation, and samael are producing great music and widening an audience that demands more from their music. My main influence, by far, however, is my father, who taught me the deepest forms of self-deprecation...
Julie: What kind of musicianship do you hold for yourself and others in Braindance?
For the most part, I wouldn't consider myself much of a musician, simply a simple simpleton that knows what he likes in his music and has the desire to achieve it on the scale that it deserves. However, I do have high expectations of the musicians that Vora and I play with. We've been fortunate to work with many talented drummers, keyboardists, and bassists over the last eight years. What I've learned, however, is that It takes significantly more than great technical ability, fantastic ears, musical maturity, superior intelligence, and physical attractiveness to survive in a self-produced unit. A strong vision, perseverance, and the willingness to go the extra mile are a must. Good hygiene and strong bones go a long way as well....
Julie: What kind of effect do you see with your style upon listeners and on the scene?
Our effect on the scene seems to be not unlike a soggy mustardized knish that's fallen in a puddle....
Julie: How have you achieved your uniqueness of your music?
Although I'd love to credit our superpowers, humility dictates that I place blame with the water filtration system in Manhattan. Insofar as songwriting is concerned, generally, Vora will come to me with the framework of a song, complete with arrangements, and it is then up to me to place concise vocal melodies and lyrics within that framework. From there, we both shape the song, and send it up to the head office, where it is then covered in a fluorescent caramel coating and packaged for the world's children to enjoy.
Julie: Sebastian's vocals are so awesome, I just love how he sings from Whence it Came as he starts with "There is no pain" How has Sebastians vocals been effective and illuminated the development in the music?
Golly, thanks. I think that by rotting from within, my voice has taken on a quality not unlike corned beef that's been left out in the sun for weeks. There's nothing like bitterness and hostility to provide vocal timbre...
Julie: Voices Are Calling is a great song that is very dark with lyrics such as Mourn the sad Creation, and Close my eyes, Voices are calling me, where did this sadness with such great details emerge from?
Vora wrote the lyrics contained within the verses of "Voices..." and parts of other songs that certainly reflect her emotional depth. I believe in a good measure of ambiguity when writing lyrics. Naturally, the themes have specific meanings for me, but I try not to assign definitive conceptual values to phrases, because listening should be somewhat interactive. Insofar as everyone's experiences are different, so should their interpretations be. Whereas I might see despair and desolation, someone else might see cookie dough....
Julie: What do you think listener can gain from Fear Itself?
The listener can gain one compact disc, a jewel case, a six-page foldout, and plastic cellophane wrapping...
Julie: The guitar work on Fear Itself gives your music a signature sound, would you agree or disagree with that?
I spent my adolescence and late teens as a guitarist, listening to gifted rock guitarists such as Steve Vai, Joe Satriani, and Steve Morse, gifted fusion guitarists such as Al Dimeola, Allan Holdsworth and Robert Fripp, gifted metal guitarists such as Paul Gilbert, Nuno Bettencourt, and Ronnie LeTekro, gifted neo-classical players such as Yngwie Malmsteen, Vinnie Moore, and Tony Macalpine, and gifted classical performers, such as Alirio Diaz, Julian Bream, and Manuel Barrueco. Vora is by far, one of my favorite guitarists, most likely, not because of her technical knowledge and fretboard dexterity (which is quite significant), but because she approaches both the instrument and her sound with a perspective normally reserved for producers. I think that this, combined with her emotional depth, musical experience, unique perspective, and wisdom makes her exciting to listen to, live or recorded. She has also promised me a lifetime supply of sesame seed bagels for gushing about her in the press...

Julie: What kind of journey can the instrumental tracks take us on?
Depending on the hallucinogenic, either a painfully introspective one, or an uneasy "feel good" quirkiness....

Julie: Fear itself was recording back in 1995, what have you been working on now?
We wrote and subsequently tracked our new release, Redemption, over the course of 1998, and into 1999. Unfortunately, several tragedies would follow that prevented Redemption from being released as scheduled. Currently, we're in mix, and hopefully, looking at a release before the summer's end. I think we've been extremely fortunate to receive an overwhelmingly positive response to the pre-production material that was sent out over the last year in preparation for the release of Redemption. With a self-produced entity that survives primarily through word of mouth, there can be quite some time between release and reaction. Perhaps the disasters that have delayed the release were, in part, a small blessing in disguise, as the buzz has gradually increased in the underground.
Julie: One of the new songs your working on with the train effects and where you say Tickets Please, is a scary sounding song, and makes me not want to ride a train or I am going to hell. With the new songs your working on will be hear any new musical ideas?
Now that you mention it, I'm quite easily frightened myself. With regards to the material, we've taken everything that worked on Shadows and Fear Itself and brought it to a higher level. Fear Itself barely had two singles whereas Redemption has potentially six to eight, the production is ten times tighter, the performances are better, and the songwriting has matured considerably. The final production will be significantly larger - we've streamlined the arrangements, beefed up the instrumentation, and added a myriad of other tasty niblets for your listening displeasure.
Julie: Do you hope the new material will be as successful as Fear Itself?
Actually, we're hoping that it is nowhere as successful as fear itself, and, like a slug that's been salted, melt into a pool of goo...