Brainterviews
INTERVIEW WITH
SEBASTIAN ELLIOTT OF BRAINDANCE
CRIPTESTESIA MAGAZINE – PERU
WINTER, 2004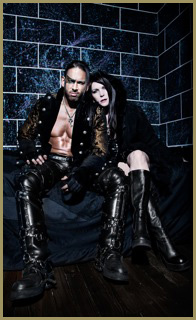 1) Braindance is a band that is characterized by the peculiar musical fusion that you make. Could you tell us about the influences that help to develop the style that actually expresses the band?
On the whole, and not surprisingly, I'm a fan of all of the sub-genres that make up Braindance - goth, industrial, progressive metal, darkwave, dance, classical, black metal, ambience & progressive trance — generally, anything with dense programming, multi-layered composition, distinct melody and/or of a darker nature.
2) What are the feelings that possess you when you compose?
Disgust, self-loathing and intermittent elation.
3) After two years of being released, the album ëRedemption' still is receiving good comments from the press and public in general. Why do you think this is?
We're thrilled by the response — it's obvious that there are more misguided individuals out there than we had thought. Although we've been extremely fortunate to receive an overwhelmingly positive response to Redemption, we're still unsigned, and when you're at that level, industry-wise, it can take quite some time for an album to gain exposure. Aside from a very talented group of artists, designers, street teams, and fans who help us survive as a self-produced entity, Vora and I have had to learn production, engineering, publicity, promotion, and management as we went, because I believed that we owed it to ourselves to become recording artists.
4) What part of the musical development of the band is represented on Redemption?
Only the juiciest and most succulent.
5) What are the themes or personal experiences that are going to influence new material?
Only sooth-sayers can predict the future, my man.
6) These days we can appreciate different styles and sub-genres in music. Do you feel part of this group of musicians who wish to explore new horizons?
When we first started producing music, we never really knew what it was that we were doing in the sense of categorization. When Vora and I first met, I hadnít even listened to contemporary music for four or five years, and didnít exactly know what genre I would have liked to be associated with. I had been completely removed from current musical trends, listening to absolutely no music whatsoever. It was only after receiving press and response from both the goth/industrial/darkwave community and the progressive community, that we came to be familiar with terms such as gothic, darkwave, ambient, industrial, progressive, death, black, doom metal, etc. In fact, Iím still not clear (and have yet to receive a satisfactory explanation) on what those terms and their respective boundaries are. Perhaps if I had been clear on those terms and how they are supposed to be communicated musically, weíd be doing something completely different than Braindance, something completely identifiable (and non-threatening by industry standards), and probably making more money doing it.
7) Could you tell us what kind of relationship or connection there is between the covers of your releases?
There is a story behind the covers that has yet to surface.
8) Is the band currently touring, or are you just doing sporadic shows?
Being out of the industry loop, as it were, weíre simply doing shows in and around the New York City area, but would love the opportunity to tour.
9) In the last promotional photos of the band, there appears to be new members.
Beka, a graduate from the prestigious Julliard School is our new keyboardist and backing vocalist, Jonah David, a jazz/funk/hip-hop/r&b/breakbeat/gospel/reggae/African/Afro-Cuban/Brazilian percussionist is our new drummer, and David Z, from the Trans-Siberian Orchestra is our new bassist.
10) What other activities do you partake in besides Braindance?
Vora and I run a large noodle manufacturing plant on the outskirts of town.
11) Has your normal life and your musical life changed a lot in the past few years? Why?
had something to do with it.
12) What can our readers expect from Braindance in the near future?
Weight gain and hostility.