Brainterviews
INTERVIEW WITH
SEBASTIAN ELLIOTT OF BRAINDANCE
CARPE NOCTURNE MAGAZINE - USA
SPRING, 2015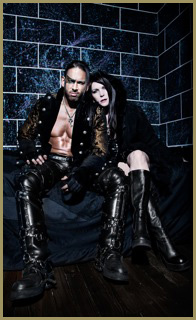 Where did the concept of Master of Disguise come from?
It began long ago, with challenges I was facing in both my personal and professional life, and the unfortunate reality of having to frequently wear a figurative mask in order to 'maintain equilibrium,' as it were - as well as to regularly prepare for the possibility (or eventuality) of fallout for having done so over long periods of time.
This concept of sublimation and the subsequent disconnection and/or resentment associated with maintaining this duality blossomed into several associated concepts before morphing into a (hopefully entertaining) synchronistic science fiction/fantasy framework running parallel to the emotional underpinnings.
Although our lyrics always have clear underlying meanings for me, I do my best not to assign definitive conceptual thematic values in their presentation, because I believe listening should be somewhat interactive. Insofar as everyone's experiences are different, so should their interpretations be. Running underneath this fictitious science fiction or fantasy framework, then, I still might see despair and desolation, whereas someone else might very well see a ham sandwich.
Having said that, however, Master of Disguise could still be defined overall as a 'concept' album, in part because it contains a progression of recurring themes (clearly identifiable or not) and developing story arcs from start to finish. Without giving away too much - it tells the story of a alien monarch whose exposure to otherworldly influence results in the loss of identity and the difficult journey of self-discovery that follows - all against the backdrop of a parallel universe sharing similarities with both ancient Egyptian and Mayan culture and civilization.
Besides the music, there is some amazing artwork, and a 16 page comic that accompanies the CD. Explain how the visuals help to complete the concept of Master of Disguise.
Thanks for your kind words. For Master of Disguise, I did quite a bit of research on the history, religion, architecture, fashion, and overall culture of ancient Egyptian and Mayan civilization and society. I also spent a lot of time reading up on the history of written communication, from cuneiform and Egyptian and Mayan hieroglyphs and pictograms to Asian scripts, Cherokee alphabets and Anglo-Saxon and Nordic runes, and spent as much time reviewing archeological artifacts from around the world and their associated inscriptions. In particular, I focused on religious practices, burial techniques, and theories on the afterlife from ancient Egyptian civilization, drawing regularly from texts such as the Book of the Dead.
I spent of lot of time researching these different areas, because I wanted to convey the concept of identity loss and confusion under a simultaneous barrage of apparently unlimited information, or dense communication. I wanted to convey those ideas visually wherever possible, and in as many creative ways as possible. By creating an alphabet from every alphabet every created, by re-creating significant archeological artifacts within the packaging, and by creating a story in the which there existed a parallel society whose nature of communication was as perplexing as identity loss is, I felt that I paid attention to the underlying emotional challenges as well as presented something unique that draws the viewer (or listener) in, and makes it interesting enough to stay for awhile.
There's certainly a lot going on - from the alphabet assembled and redesigned by myself and the mighty designer Kevin 'Pavement K' Beard, to the 3D mural by the German artist Rainer Kalwitz, to the ten page foldout illustrated by the incredible Joe 'Sweetrot' Simko, to the photos taken by Hristo Shindov, to the 16-page comic brought to life by Simko and Kieran Oats, to the amazing printing by Ross Ellis.
For the 'golden glyphs', i researched 60 alphabets from the very beginning of recorded time and chose five characters per alphabet to replicate in order to create a 300 character custom designed alphabet. These characters, visually presented in random (or not so random) order could easily be taken at face value as solely a form of hieroglyphic communication (and perhaps a moderately attractive visual effect), but the message behind choosing a visual comprised of a multitude of apparently non-compatible glyphs - and a main theme running through the entire album - again, is one of identity confusion amidst information.
Similarly, the ten page foldout features our protagonist shadowed by an imposing structure, flanked by pyramids, and standing knee deep in sand, presumably before a great expanse of imposing desert. At his feet are recognizable archeological artifacts, yet he apparently remains completely unaffected by their presence, or associated symbolism or meaning. In his right hand he holds a royal staff and a purple robe, remnants of a life that is about to be left behind. In his left hand he holds a amulet of undefined power that has clearly affected him. An amulet that has changed many hands across time, space - and four Braindance albums...!
The graphic novelette expands upon both the ten page foldout and the story put forth in the title track, 'Lost,' and is meant to simultaneously set the stage and whet the appetite for the remainder of the album's concepts. Designed by myself, illustrated by Joe Simko and colored by Kieran Oats of Cadence Comics, the novelette begins the saga of our protagonist, who, upon discovering the aforementioned ancient relic, ends up questioning his entire existence and destroying everything around him.
Any thoughts of continuing the comic beyond the CD?
Sure. Any thoughts on Carpe Nocturne sponsoring it..? ;)
You have added an amazing lineup for your live performances. First, how did you manage to collect so much talent, and when might we see a tour?
Vora and I were finally able to get our hands on a genetic replicator and build our live lineup from the ground up, thereby eliminating all of the unpleasant attributes that are usually associated with working with human musicians. We were able to clone Kenny Grohowski, who has played with the Secret Chiefs and the Pastorius brothers, rhythm guitarist Tony Geballe, who plays with the League of Crafty Guitarists, bassist Eiki Matsumoto, who was with us from 1992 until 1996, keyboardist and backing vocalist Elektra, and two other backing vocalists to be announced. In addition to the cloning, we also provide a vast array of sumptuous finger foods and salty snacks during rehearsal that always keeps 'em coming back.
As you may already know, Braindance has always technically been an unsigned act, and we've been blessed with the learning of this wonderful business as we go. I feel very fortunate to have had so many people pick up on what we're doing, but doing it yourself takes a strong toll, especially financially, and as much as we love performing, hitting the road without the proper support is not necessarily the way that I'd like to promote the material, aside from the obvious damage it would cause to other areas of our lives, including, quite possibly, the current promotional campaign for Master of Disguise. Having said that, we're currently lining up some local performances in support of the new material with the aforementioned team.
Speaking of talent, Vora Vor has some mad skills on guitar. What's it like working so closely with such a gifted musician, and how times a day do you sit back and say, "Damn, did she just do that?"
Mad skillz - fo reals tho. It's been an honor and a privilege to work with - in my assessment - the only genius that I've ever met, and that assessment extends to the guitar path, through the village of composition, across the realm of music production and far beyond.
So how much are you bench pressing these days?
Far, far less than you might imagine.
Going back to MOD, I was surprised by the amount of movie and TV clips you used within the songs. Where did the idea come from, and how long did you have to spend gathering them all?
We've been sampling movie quotes in our recordings and performances since the inception of Braindance, and for this album, I knew exactly what kind of samples I was looking for, and what kind of movies I wanted them from. It took a few months to record and compile them, a few more to make final selections and designate placement, and still a few more to edit them together cohesively for the collages. In my mind, however - just like writing melodies or lyrics - i knew there would be a perfect fit for each intended space and up to me to find them.
With the video "Lost," you combined so many different visual elements to create, as you accurately state, "A feast for the senses." Where did the idea come from, what did director Tony Hanson bring to the table, and how difficult was it to pull off?
'A feast for the senses?' Wow. Obviously, I'll say anything to get people to check out the over-the-top, super cheesy video for 'Lost'. I knew that visually, I wanted as much as possible, and we were able to incorporate three separate story lines, costumed actors, green screen technology, set design and makeup, overhead outdoor shots, CGI effects, live performance, and VFX digital artwork created from the ground up.
I have to tell you - in our 23 years of doing this, there are perhaps a handful of people that haven't let us down, and an even smaller handful of people who've exceeded expectations. Tony Hanson of Fenix Studios is one of those people. I searched for five years for a video director who could deliver a fraction of the ideas that i suggested, let alone take those concepts to the next level. All I found were guys who wanted to charge me a million dollars, or who wanted to slap their name and concept across every inch of it, or who couldn't return a fucking e-mail, or most commonly - guys who told me it couldn't be done. Tony and his exceptional team not only delivered, but also had the passion, the vision, the dedication, and the professionalism that allowed me to focus on what i needed to do, instead of worrying about everything and everybody, every step of the way.
In the video, the accompanying story for 'Lost' is quite different - incorporating a sinister character background of our monarch, a separate thread involving the priests and their magical influence, and overall, ending on a definitive moral high ground. Without a doubt, a different twist on the tale (other than the one told in the comic), that Tony suggested would be more effective in video form for viewers. And the visual elements that created 'a feast for the senses?' Konstantin Vilenchitz completed the animatronic rendering of the comic (both the official and full animated version), and all of the VFX, green screen, and CGI stuff took a full year of post-production from Tony's team before completion.
Your side project, Sentinel of Eternity, is so completely different than Braindance. How did it come about?
I met Stephane and Salandre during the days of MySpace when they reached out with a Braindance friend request. At the time, I was on the lookout for an EBM project to lend my vocals to, and Stephane's compositions truly spoke to me. I responded with a proposition, and over the next year, worked closely with Stephane on arrangements, and then subsequently wrote and recorded the lyrics and melodies for the self-titled Sentinel of Eternity album.
Was it a challenge working in a completely different genre of music?
Not unlike wearing another pair of pants, since not surprisingly, I'm a fan of all of the sub-genres that make up Braindance - goth, industrial, electronic, ebm, synthpop, progressive metal, classic metal, progressive trance, vocal house, and classical. I had been looking for a project with dense programming and multi-layered melodic composition like S.o.E. for quite some time, and jumped at the opportunity to put my lyrics and melodies over Stephane's dark soundscapes.
So what's next for Sebastian Elliott ?
Although Braindance is my priority, I would still love to do a house project ala Morillo, a trance project ala Van Buuren, or a electronic hybrid project ala Nero or Pendulum. Right now, I'm looking forward to performing the new Braindance material live, re-releasing 1994's Shadows and 1996's Fear Itself, and of course - reading the new issue of Carpe Nocturne. ;)