Brainterviews
INTERVIEW WITH
SEBASTIAN ELLIOTT OF BRAINDANCE
BRUTALLICA MAGAZINE — BULGARIA
SPRING, 2003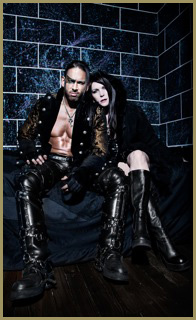 1) at first, i would like to express my fascination of your latest release! it left me filled with numerous questions... what i'm sure of anyway is that "redemption" is a result of your inspiration by both life and death. i wonder what do you think about people who find sense in "the one side of the coin" only?
thanks for your kind words and unusually esoteric question, although i'm not sure what you mean by "the one side of the coin". i question those people who find the need to decide between beefy, viscous manhattan style and thick, creamy new england style clam chowder. as far as writing music and expressing spiritual themes are concerned, inspiration sometimes chooses you. it is then up to you to shape it and present it, if applicable.
2) i haven't heard your previous releases yet (but i hope to someday!) – would you say a few words about each? indeed the titles speak enough but still i couldn't help asking this question to learn something more though...
shadows was released as a cassette ep in 1994, fear itself was released in 1995, and redemption is now upon you. with regards to the material, we've taken everything that worked on shadows and fear itself and brought it to a higher level - the production is tighter, the performances are better, and the songwriting has matured considerably. generally speaking, redemption speaks through the sub-genres of goth, industrial, progressive metal, darkwave, classical, and progressive trance with enough pop sensibilities to make anyone nauseous.
3) "redemption" deals with rebirth as well; have you happened to have inner visions of landscapes you've never seen that still made you feel kind of nostalgic?
no – but that's a very cool concept. with regards to lyric writing, i believe in a good measure of ambiguity. naturally, the themes have specific meanings for me, but i try not to assign definitive conceptual values to phrases, because listening should be somewhat interactive. insofar as everyone's experiences are different, so should their interpretations be. for some, redemption may very well mean schwarma.
4) what do you view the eternal return as?
hopefully, one in which contains at least the video games asteroids, defender, & tempest.
5) what do you think might have happened in case time machines really existed? what i mean is if they should be considered as a chance for making corrections in life or a key to stagnation and regression even...
the latter, if either. the journey is relentless...
6) what kind of thoughts are you most often filled with while gazing into the nightsky?
ones involving corned beef, melted swiss cheese, and brown mustard.


7) if you be given the opportunity to go to live in another epoch which one would you choose?
i like your time machine concept better – kirk and spock visited many eras, but i would most likely say ancient egypt.
8) do you think that man is entirely subordinate to forces unseen or there's a hope for controlling fate even if a small one?
i wish i knew.
9) what's the average age of the braindance members if not a secret? the reason of asking you this question is that "redemption" is a remarkably mature album in my opinion...
we've been through the brutallica time machine for several thousands of years, my friend. if you met us in person, however, you would find us to be secretively childish...
10) do you always manage to accept your failures in life philosophically?
not always - there are very few that can consistently.
11) are you apt of viewing self irony as a way to survive mentally?
yes.
12) what is fear itself?
really scary stuff.
13) do you believe in (self) suggestion?
completely – conscious, subconscious, and unconscious workings...
14) so let's go back to "redemption". honestly speaking, the vocals remind me of peter steele's a lot. have you been told that before?
i have heard that with regards to several vocalists, but certainly, peter is a great talent, so thanks...
15) i remained very impressed by the samples inserted in between the tracks – would you say something more about them?
no.
16) how do you feel while being in direct contact with the crowd at concerts?
close. very close.
17) what kind of people go to see you live usually?
vampires, computer geeks, science-fiction nerds, comic fans, cartoon buffs, musicians, the depressed, the disgruntled, the ones seeking enlightenment, and the ones we beg to show up.
18) favourite book?
anthony robbins – awaken the giant within.
19) do you surf in frequently and (in case you do) what kind of sites do you like to visit most?
if i do, it's to occasionally check out new music or for general pornographic information...
20) I am more than glad to find out that you're currently working on a new album! What will we have to expect this time? It's too early to say, I suppose, but still I couldn't help asking...
expect much of the same – plastic and paper enveloping a disc of joy...
21) However, I shall not omit the lineup changes in the band: did you find Beka, Jonah David and David Z through casting or were they all friends of yours already?
I met Beka through one of my favorite fitness clients, who was constantly raving about her playing and musical prowess. Although quite hesitant, my reluctance cleared when I finally met her and knew she would be right for the project. I caught Jonah's playing completely through a highly bizarre divine intervention at 11 in the morning at a large after hours nightclub in manhattan that had a side room featuring live acts. When I heard his solid footwork, snare sound and ability to groove, I knew I had to approach him. I had known David Z peripherally for years from the New York progressive metal scene. David had previously expressed interest in playing for braindance, and when he wasn't busy with Joan Jett and the Trans Siberian Orchestra, I asked him to come aboard.
22) How was 2002 concertwise?
Great beer, great hot dogs.
23) Which kind of people do you view as more dangerous - fools or lunatics?
Those who are apparently sane who are misled by either fools or lunatics can be the most dangerous of all...
24) What could you say that you're seriously tired of lately?
We only have so much time together, you and i...
25) Do you view Art (in general) as a reliable way to free yourself from your internal conflicts and fears?
We only have so much time together, you and i...
26)How do you visualize Madness?
No need for visualization, my friend...
27) future plans? thank you...
vegas, baby, vegas...