Brainterviews
INTERVIEW WITH
SEBASTIAN ELLIOTT OF BRAINDANCE
ARDEAL MAGAZINE - TRANSYLVANIA
SPRING, 2003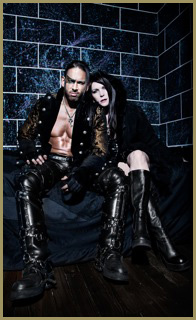 1) Hails! Please introduce us to the world of Braindance.
It is a world filled with salmon enchiladas & unbridled enthusiasm...step inside...
2) You are making very special music. Who are its addressees?
The disgruntled children of this world searching for answers and a hot sauce that doesn't cause acid reflux...
3) "Redemption", your third product, has 10 tracks, each of them being titled "Re..." (Resurrection, Reflexion, Requiem). Why?
There are actually eleven tracks, in case you need that extra push over the cliff.
4) I can sense a link between the music and the CD's cover design. Are you fantasy inspired persons?
Funny how that works — I can actually sense a link between large quantities of alcohol and vomit. Vora and I both grew up reading and collecting science fiction/fantasy novels and comics. I've got enough reality in my day-to-day existence, so I make quite an effort to live a fantastical existence, at least where Braindance is concerned. I, for one, have had enough of watching dreamy gas station attendants serenade the ladies. If music is to be lifestyle music, let mine reek of super beings wielding magical weaponry, battling evil aliens for the control of the universe...
5) Speaking of the cover (one of the best I've seen), who are those little green creatures? What about that sorcerer? Is there any story behind the cover? If so, please take all the space you need and tell it to us, I'm very curious. Who's the girl holding the light in her hands?
Thanks for the compliment, although we've relegated the cover art to the main insert, and replaced the cover with a scaled-down version for the second printing. The little green creatures are representative of chocolate sprinkles encroaching upon the sorcerer, who represents fat-free frozen yogurt, or fro-yo, as the kids like to call it. In reality, however, the female holding the light is the protagonist from fear itself, whose cover art is part of a continuing saga of the brainamulet featured on all three releases (and naturally, weaving a mystical web across several album covers is also a devious ploy to sell more cd's).
6) Where did you get the idea of making such deep, profound music? Are you content with the final result?
The idea came from deep, profound misery. Contentment breeds apathy; discontent breeds a heightened work ethic or misery, or both. Let's just say that we're satisfied.
7) I've read that you play live often as headliners. What do you do on stage to visually sustain the music? I guess lights have a great part in it...
Lighting one's self on fire is enough to visually sustain the music, although we usually sustain severe burns. The lights always help.
8) You are only two in Braindance. Who helps you in concerts? Are you a real band, or only a project?
Braindance is once again a five piece. Beka, a graduate from the prestigious Julliard School is our new keyboardist and backing vocalist, Jonah David, a jazz/funk/hip-hop/r&b/breakbeat/gospel/reggae/African/Afro-Cuban/Brazilian percussionist is our new drummer, and David Z, from the Joan Jett band and the Trans-Siberian Orchestra is our new bassist.
9) Are you misanthropic persons? What conditions there should be fulfilled to make you a proper state of mind to compose music? Do you have any musical studies?
Misanthropic? In the states, we have MTV, and thus, polysyllabic words are generally frowned upon. However, given that I have a dictionary within grabbin' distance, I'll say both yes & no. Speaking for myself, in order to write music, I've got to have a few hours to myself surrounded by small purple gnomes bearing sauerkraut.
10) In "Redemption" a concept album in what concerns lyrics? Ever thought that you lyrics aren't enough to express your feelings and that you'll need to write a book?
The Latin phrase preceding the title track of Redemption essentially means, "as above, so below," and can be interpreted as 'what comes around, goes around,' or karmic intervention, a central theme within the album. However, I believe in a good measure of ambiguity when writing lyrics. Naturally, the themes have specific meanings for me, but I try not to assign definitive conceptual values to phrases, because listening should be somewhat interactive. Insofar as everyone's experiences are different, so should their interpretations be. Whereas I might see despair and desolation, someone else might see rice cakes. Vora's the literary genius - I can barely make it through a book, let alone write one that would hold anyone's interest...
11) Is image import for Braindance? What persons are you beside the band?
Vora is a web site designer/computer guru/software developer and I'm a personal trainer/nightclub promoter/voice over actor. We both run a Baskin-Robbins franchise in Times Square, 31 magnificent flavours and all...Image is nothing; thirst is everything...
12) How do you promote this album? How's the public reaction? What about mass media?
Completely self-produced; completed self-promoted. The underground fans, press, and radio have been exceedingly beneficent, whereas the labels have no clue what to do with us, and thus, are quite fearful. Mass media takes mass money. Aside from a very talented group of artists, designers, street teams, and fans that help us survive as a self-produced entity, Vora and I are completely responsible for production, promotion, publicity, bookings, management, and financial considerations. Out of necessity, we've had to learn production, engineering, publicity, promotion, and management as we went, because I believed that we owed it to ourselves to become recording artists. I wasn't going to wait for someone else to allow me to begin my career.
13) Did you receive any offers from labels? If you sign with one of them, would you prefer it to be an American or a European one?
Every month brings several offers from labels that are interested but can deliver very little more than what we can do ourselves. Without a significant push from a supportive label — advertising, video promotion, tour support — we're dead in the water. No matter how many fans, dj's and journalists champion the material, the structure of the industry is based upon financial return, like any other business. I think we've been extremely fortunate to receive an overwhelmingly positive response from the underground press, fans, and radio community. However, in order for a label to dump a heap of cash on you (and subsequently attempt to convince the world's children that you're the niftiest thing around), they've got to be sure that your style of music has an audience and has succeeded in other realms with a competitor. The competitor must have had one of you, and have done rather well with them. Otherwise, the aforementioned anxiety translates into business risk. I'd be lying if I told you that I didn't want large quantities of reptiles to ingest our music — we're still waiting for an significant offer from a label who has the balls to step up to the plate and sign an artist that crosses the boundaries that we cross.
14) Are you in contact with the metal scene? What music do you listen to at home?
On the whole, and not surprisingly, I'm a fan of all of the sub-genres that make up Braindance - dark hybrid metal, goth, industrial, progressive metal, darkwave, classical, progressive trance, and dark house - anything with dense programming, multi-layered composition, distinct melody and/or of a darker nature. I'm a fan of hard music, but finances usually restrict my purchasing power. I am, however, in contact with metal, every time I visit the dentist...
15) What books do you read? Do they inspire you?
I've been eating large quantities recently, so most of my reading is of magazines, whilst on the throne of power. Whatever books I read are mostly in the self-help/psychology genre, that doesn't necessarily inspire, but remind me of all of life's lessons that I should already know.
16) Do you know anything about Romania? About Transylvania?
I believe that my ancestors came from that area — Russia, Hungary, Romania, Transylvania, Pennsylvania...Other than what I've picked up via vampire flicks, my knowledge is somewhat limited. Feel free to send over a sampling of trendy clothing and popular snack foods from the area at any time, however.
17) Are you interested in vampires? Do you watch horror movies? Would you like to compose the sound track for one of them?
Sure, sure, sure...
18) Do you have any new material composed for a new album?
Yep.
19) What do you hope to reach through Braindance?
A release from inner torment and a release from my day job.
20) Thanx for answering. Any final message?
Always bet on black, my friend...